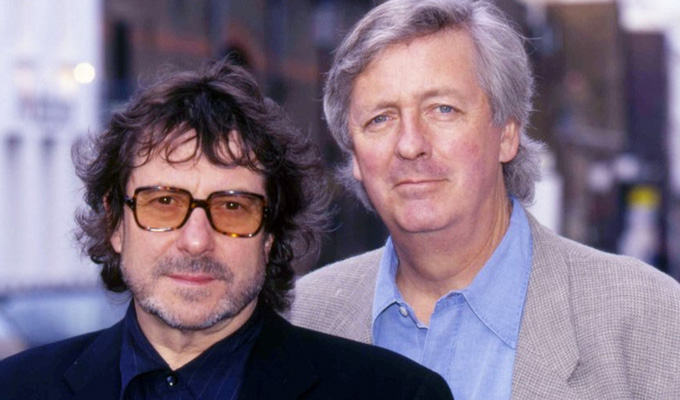 More Than Likely by Dick Clement and Ian Le Frenais
Comedy fans know Dick Clement and Ian La Frenais as the creators of The Likely Lads, Porridge and Auf Wiedersehen, Pet. But as alluded to by the title of their joint memoir, they have done so much more than this.
Their successes in British comedy opened the door to Hollywood, where they now live, and over their 50-year career they have amassed more than 60 IMDB credits to their name, including The Commitments, Tracey (Ullman) Takes On, Flushed Away and The Bank Job, plus uncredited script doctor work on the likes of Never Say Never Again and theatre work such as Anyone For Dennis and the West End musical version of Billy Liar.
They have also gathered a sizeable collection of famous pals – starting from their time on the peripheries of Swinging Sixties – and their book is primarily a collection of showbiz anecdotes that celebrate this.
It's more scant on autobiographical details, even though these are often the best bits, especially when depicting a Britain of National Service and declining deference to the old order. Clement, for instance, had a remarkable trip to the States, especially for the time, before conscription.
The pair met through a mutual friend in a pub called the Uxbridge Arms in Notting Hill, soon after Le Frenais moved to London from the North East, getting a job with the BBC's Overseas Service. Clement, meanwhile, was an aspiring actor.
They got a break early, writing a sketch for an am dram group of BBC employees about two lads, Bob and Terry, discussing the dates they had just been on. And so The Likely Lads were born.
Way ahead of YouTube, the duo decided to shoot a 20-minute version in a pub, which came to the attention of veteran BBC producer Dennis Main Wilson. Apparently Marty Feldman walked in when he was watching the tape and said: 'These are good writers. Have them put down.'
Timing was everything and as BBC Two had just launched and needed content for its schedules, so a full series was ordered, with Rodney Bewes and James Bolan cast as the leads. Like so many stories in this book, the idea these were different times is very apparent in this spontaenous commission, no pilots or focus groups to be seen.
As the writers' combined career takes off, the book shifts to concentrate on their work and the notable people they encounter, rather than themselves. At one point Le Frenais writes of his marriage: 'We'd had some turbulent times and there would be more to come, including addiction and rehab, but common sense and true love prevailed.' That's the first, and last, we hear of any personal travails.
Maintaining focus on the stars, they take turns to write chapters, each dedicated to a different one, from Richard Burton to Edward Heath; George Best to Anne Bancroft. So, yes, it can be something of a fragmented read. Occasionally there's an even more unlikely character such as Russian poet Yevgeny Yevtushenko – a larger-than-life encounter that delivers everything you'd hope – and conservationist Belinda Wright, who offers a change of pace from showbiz royalty as the pair visit her in a very remote corner of India.
The tone is always genial – eventually a little too much so as they dole out increasingly fulsome adjectives. (Perhaps that's why people keep wanting to work with them after five decades). They also give fuel to the suggestion that anybody in comedy is a frustrated rock star given their starry-eyed depiction of the likes of Ronnie Wood and Dave Stewart, who would become friends.
There are some classic showbiz stories here, such as the time Richard Burton came to visit Elizabeth Taylor on the set of a movie and started barking: 'Where's my wife, has anyone seen my wife?' A disembodied Cockney voice replied from the gantry: 'What's she look like, mate?'
Elsewhere they tell how of Peter Sellers insisted that bleak filmmaker Ingmar Bergman be signed up to direct his 'hippy-trippy comedy'; of almost decapitating Dudley Moore; of being drunk under the table by Ava Gardner; of an accidental showdown with Hollywood heavyweight Jack Palance; and what a character – or more accurately, 'shit' – Michael Winner was.
He's just one of the larger-than-life industry figures the pair encountered in their career, which has included more than its share of long lunches and lavish dinners.
Particularly entertaining, or infuriating is Bill Mark, a Texan moneyman who led them a merry dance with the promise of financing The Commitments. Meanwhile their tales of working on the US remake of Porridge confirm every stereotype of the Hollywood executive that just doesn't get it.
Yet even the inevitable setbacks of the industry are made amusing, for it's clear these are two people who love their jobs and the experiences it has lead to. No wonder they are still going strong in their 80s, with the rebooted Porridge and the Gold sitcom Henry IX hitting screens in the past couple of years.
'We always agreed the word "retire" gives us shudders,' they write. Maybe they'll keep going for a second volume of memoirs.
• More Than Likely by Dick Clement and Ian Le Frenais is published by Weidenfeld and Nicholson priced £20. Click here to buy for £14 from Amazon.
Published: 29 Oct 2019
What do you think?