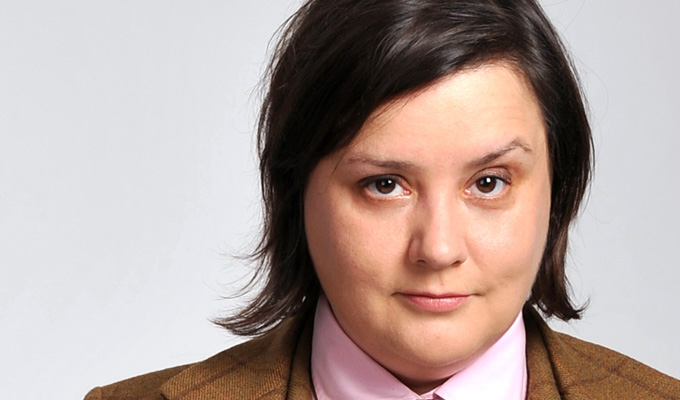 Cheer Up Love by Susan Calman
Comedians have long stopped just telling jokes in favour of speaking about subjects that interest them – No 1 on that list being themselves, of course. But their well-honed instincts to speak amusingly, honesty and succinctly make them the perfect all-in-one Reithian mix of education, entertainment and information, which publishers now seem to be wising up to.
Hot on the heels of Sara Pascoe covering women's issues through the prism of her own experience comes Susan Calman, tackling the still slightly taboo – but decreasingly so – subject of depression.
The Radio 4 regular admits that she has long been visited by what she calls the Crab Of Hate, her version of Churchill's Black Dog of depression, bringing self-loathing, a crushing sadness and abject pessimism. Though 'admit' would be to suggest that there's some level of culpability, rather than simply the consequence of the way her brain's chemistry and wiring works.
Depression isn't something you can turn on and off, which is why the exhortations to 'cheer up love', 'smile, it might never happen' or 'just pull yourself together' are the worst things you can say to someone under its pall. If you didn't know that before, you will after reading this book, taking its title from one of those trite aphorisms, which will surely prove as useful for those in contact with depressives as it it for sufferers.
Calman is – spoiler alert – not a doctor (though she was a corporate lawyer before turning to comedy) and outlines a lot of caveats at the start of the book. Chiefly, that because it is based entirely on personal experience, her advice may be poor, her opinions contradictory, her arguments equivocal, and that solutions that worked for her won't work for everyone. But the authenticity of her stories resonates more than any more formal study of depression ever could.
When it comes to solutions, she  certainly doesn't recommend stand-up as a panacea, even though it has helped turn her life around. With the loneliness of travel, the highs and lows of chasing laughter and the low pay (£250 she reckons she made in her first year – and it's probably even tougher now), it's a career choice that seems more likely to exacerbate issues than salve them. And Calman describes some bleak incidents – being punched by a child while flyering Edinburgh's Royal Mile in a home-made cardboard sandwich board being turned to mush by the relentless rain  – that are darkly funny, at least in retrospect.
But she has been able to seize her own destiny. She recalls playing one rowdy weekend club gig when she asked a man dressed as a penis ('which was apt') what he did for a living to receive the reply: 'I kill fat dykes' to a huge cheer from the crowd. She started coming back with one of her most vicious put-downs, but in a moment of epiphany, she stopped herself mid-sentence, walked off stage and drove home, vowing never to work for that chain again. 'I chose the fork in the road marked "dignity",' she writes
And that is one message in the book, to ditch, where practical, anything that consistently makes you feel bad. She's thinking, in particular, of friends who are always a downer.
But although depression can be exacerbated by external agents, it's most likely something you're born with. Calman points out that she comes from a supportive, happy, nicely middle-class family, her mum a primary school teacher, her dad a doctor. That's actually slightly coy: he rose to become the government's chief medical officer and has more letters after his name than in it.
Yet despite these comforts, a 'dark cloud' followed her from a very young age, as she focussed on improbably worst case scenarios to an extent that would cripple her .
She was a she was a self-harmer – or 'cutter' as she prefers to say, as it's less euphemistic, more accurately brutal – who at 16 ended up in a Glasgow psychiatric hospital. Calman is still understandably reticent about some of these episodes, but it's a bold move for her to speak of them at all. It serves to reassure the reader that whatever they are going though, someone else has been there too.
The book is, after all, only partly autobiographical. She may recall stories such as her horror at having to be Mary in a school nativity because it meant kissing a boy, or her escapades with lonely hearts columns long before internet dating – but it's in the context of setting up who she is and why she can talk about depression. 
Some of the funny ha-ha behaviour you think she might exaggerate for comic purposes – whether it's dressing up her cats or wanting a diamond engagement ring because she vividly remembers an episode of Hart To Hart when Stefanie Powers used hers to escape peril – are linked to obsessions that have a more serious side.
She discusses personal changes she's made to live with all this, such as how she got comfortable with her body, including finding a fashion style that suits her, or realised that - duh – drink probably wasn't the answer. 
In trying to find what WAS the solution, Calman had some encounters with therapists she describes as 'horrific experiences' – including, hilariously, the one who asked, grumpily, after several sessions: 'You never ask me how I am…'
It seems a bit trite to say so, but the solution to managing her condition has been communication, largely thanks to her understanding wife Lee, but with others too. And you might spot  elements of cognitive behavioural therapy. No longer does she apologise for her actions – at least before there is anything to say sorry for – instead she thanks her wife for her patience.
She also makes suggestions how to deal with run-ins with online bullies ('trolls' being too cute a label, she decides) and shares the realisation  that not everyone else's world revolves around her, helping her to relax some of her corrosively negative fixations. Conversational faux pas at a party will be forgotten by the other person while you're still replaying it,and all its imagined consequences, in your mind.
Some of the more out-and-out attempts to inject some levity into the serious sections clunk a bit, but when Calman writes frankly about herself, it's with the fluid wit of her stand-up. As with so many difficult subjects, a dose of well-intentioned humour goes a long way.
• Cheer Up Love, Adventures In Depression With The Crab Of Hate by Susan Calman is published by Two Roads. priced £16.99. Click here to order from Foyles.
Published: 26 May 2016
What do you think?