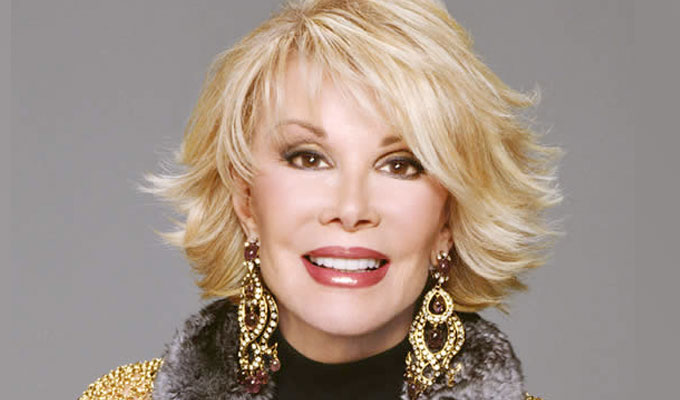 The Book Of Joan, by Melissa Rivers
'Too soon' is not a phrase that was ever in Joan Rivers's vocabulary. It was said that she was telling 9/11 jokes before the second tower fell.
So is it too soon for her daughter Melissa to write a book about her mum, published within a few months of her death an just in time for the just-gone Mother's Day in the States? Hell no…
Certainly the publishers knew an opportunity when they saw one, with an editor apparently approaching Melissa as she walked down the aisle immediately after her mother's funeral and pressing a business card into her hand. It's surely the sort of brazen chutzpah Joan would have appreciated.
The result is an affectionate – and honest – portrait of a difficult, stubborn Jewish mother through a series of amusing recollections and breezy personal essays. 'My mother had always been a bit of a handful to put it nicely,' Melissa writes. 'Huge pain in the ass would be less genteel, but it would be slightly more accurate.' Yet she was also generous, talented, fearless and a self-made woman, her indomitable spirit triumphing against the odds.
The Book Of Joan is not a detailed biography, which given how open the comedian was about most of her life would probably be redundant. From the suicide of her beloved husband Edgar, to her fallout with one-time mentor Johnny Carson, to multiple plastic surgeries to her hawking jewellery on QVC – all these things are assumed knowledge, already transmitted to the world through Joan's act.
But what does emerge is a genuine sense of what it was like to be brought up by this remarkable, and often peculiar woman, with her punishing work ethic (even into her 80s), addiction to glamorous designer labels and unbending attitudes to life. Melissa puts a light touch on things, but the sense of a demanding mother is overwhelming.
She was, for example, a stickler for manners – which might come as a surprise given her brutal sense of humour. But then she didn't always feel bound by the rules she insisted on for others. In a typically revelatory sentence, Melissa entertainingly discloses that: 'One of her favourite games was answering the phone in a foreign accent in case it was someone she didn't want to talk to. Unfortunately she wasn't very good at accents.'
Joan certainly had her unique brand of parenting. Even when Melissa was a child, she'd be dragged around to the nightclubs where Mum was performing – so even though Joan instilled in her daughter the importance of a good education, Melissa notes that 'before I could even recite the Pledge Of Allegiance I could recite my mother's act'.
And some of the sense of humour has certainly rubbed off, as the book sparkles with acidic asides, many aimed at Hollywood A-listers. Melissa necessarily played second fiddle to her dominant mother on the red-carpet commentaries they did together, but she here she comes into here own.
Captioning one of her mother's early headshots she says: 'I'm not sure exactly what year it's from, but I think she was on her second nose'… after all, 'she changed noses the way Taylor Swift changes boyfriends'. No wonder Melissa's son Cooper – on whom Rivers clearly doted to an almost suffocating degree, called her 'Nana New Face.'
Given her fixation on looks, it might not be a huge surprise that Joan hid money around her lavish New York apartment that she could splash out on haute couture treats without her accountant's knowledge – but it's more of an eye-opener that she was obsessed with serial killers and enjoyed needlepoint.
Another odd habit was to always carry a Ziploc bag in her handbag, containing bacon bits and a small bottle of blood. The reason being that if she was on a flight hijacked by Islamist terrorists, she could throw the blood and pork on them and they wouldn't get their promised 72 virgins.
Rivers's maternal advice to her daughter was often as blunt as her act. 'Sweetheart, pussy pulls freight trains,' was her advice on graduation. And for all that she might have been a feminist icon for taking on men at what was then their own game of stand-up, the view of the never politically-correct Rivers was that 'feminists are just lesbians who can't play golf'.
Yet after all the laughs both with and at this one-of-a-kind, larger-than-death character, her daughter ends on a tender note, poignantly describing her last moment as the affection that underpins even the wildest of Melissa's anecdotes comes finally to the fore.
• The Book Of Joan: Tales of Mirth, Mischief, and Manipulation by Melissa Rivers is published by Random House USA for £18.99. Click here to order from Foyles for £15.19
Published: 28 May 2015
What do you think?