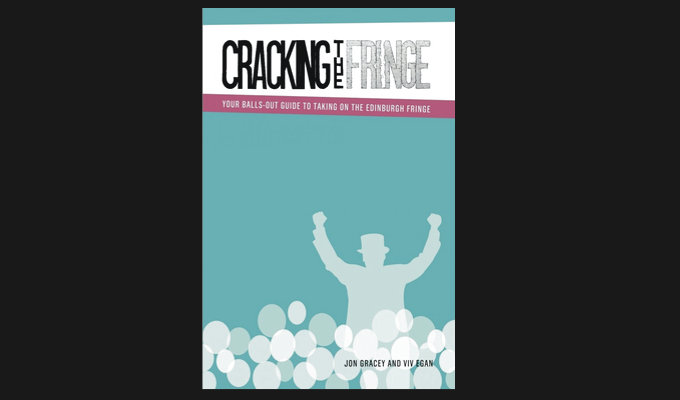 Cracking The Fringe by Jon Gracey and Viv Egan
If there's one essential piece of advice missing from the new how-to-do-the-Edinburgh festival book Cracking The Fringe, it's 'you should probably buy another guide'.
Because if you are serious about putting on a show there – and deadlines are whizzing past as you read this – there are just a few too many omissions or important things skated over for this to be a definitive handbook.
For example, there's no mention of the publicity contra – a sizeable sum charged by most of the big venues that it would disastrous to omit from your budget considerations if you were performing there. Yet in the budgeting section it does mention that you should allow approximately £4 for a pint.
There's half a page of things you might want to buy from the corner shop when you arrive at your rented flat: toilet paper, bin bags J Cloths etc... And just eight lines on whether you need a PR company. Their short answer is no, which is probably right, but a more considered weighing of the pros and cons would surely be useful. Similarly there can be an advantage to inviting critics to previews – another idea they quickly dismiss – but it's a decision that needs careful judgment.
It is clear the authors are not producers. Jon Gracey is a performer formerly known as a Beta Male, and his partner Viv Egan was part of the 2010 show Princess Cabaret and has written some critiques for the Fringe Review website. They are excellent at describing the rollercoaster experience of performing at the world's biggest arts festival, from press scrutiny to Fringe Flu – and their chapter on flyering is entertaining as only a first-hand account can be. But although their book has a suitably friendly, chatty and witty tone, and might raise some 'I'd have never thought of that...' considerations, it's not as comprehensive as it needs to be.
The focus is also narrow. Their go-to man for a quote on performing is always musical comic Jay Foreman – and while his advice is certainly valid there are thousands of comedians with thousands of experiences and the range doesn't feel covered. Likewise the diversity of the press coverage is restricted to the opinion of FringeGuru's editor.
With its list of travel options from London, a short list of restaurants, and things to do on your day off (sleep, see shows, go cinema, climb Arthur's Seat) and other such easily-Googable facts such as where the Primark is (Princes Street), the tone is as much of a tourist guide for those spending a month in the Scottish capital as it is advice for the fraught complexities of staging a show.
Much of the important advice seems to have been offloaded to their website – and that's surely worth a free browse. But for books, much better, is The Edinburgh Fringe Survival Guide by Mark Fisher, who has 30 years experience of the festival. He recommends performers precisely and honest ask themselves 'what do I want to do the Fringe for?' then covering the main things to consider with that motivation always in mind.
Still, Cracking The Fringe the guide that tells you to bring your laptop; eat fruit and use Twitter.
The answer to cracking the fringe is research, hard work and luck... and it doesn't feel like Gracey and Egan have done enough of the first two, meaning this is a decent starting point, but not a comprehensive guide.
• Cracking The Fringe is self-published, and out now, priced £12.99 or £12.11 from Amazon
Published: 4 Mar 2014
What do you think?