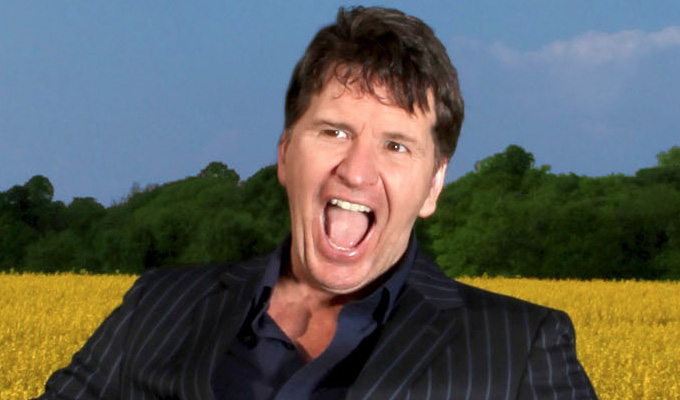 Gift of the gags...
Stewart Francis: Pun Direction
'Over 500 of his greatest gags – and four of his crap ones' boasts the cover line – and that's exactly what you get - the trying-too-hard title probably being one of the duds. From the dedication to the appendix, and even the phoney 'Also by Stewart Francis…' plug at the back, this is a good old-fashioned joke book from the Canadian Mock The Week regular. Included is the 'You know who really gives kids a bad name? Posh and Becks.' voted the best at the Edinburgh Fringe in 2012 - a meaningless title but one that did wonders for his profile. Most are one-liners in a similar vein, either tricky wordplay or condensed bites of absurdity, while the book is also well illustrated with his own cartoons, reflecting his Career Plan A of being a syndicated cartoonist, with his work very much in the style of The Far Side's Gary Larson.
Stewart Francis: Pun Direction is published by Headliner, priced £12.99. Click here to order via a local independent bookstore for £6.48.
Stewart Francis is also appearing at the Chortle Comedy Book Festival next Wednesday (27th). Click here for tickets.
The Tim Vine Bumper Book Of Silliness
It will come as little surprise that Vine's offering is a little more childish: 'A bit like an annual – annual love it', he says. It's very much in the daft style of his stand-up routine with, for example, a large typeface proclaiming 'Double Page Spread' over a two-page picture of jam. Cartoon strips, spoof ads, picture stories, gags based around puzzles such as word search or colouring in, this is not going to be taxing the little grey cells this Christmas, but it is charmingly crazy.
The Tim Vine Bumper Book Of Silliness is published by Orion (Which Orion? Any Orion… these puns are contagious), priced £12.99. Click here to buy from Amazon for £7.
Altogether smarter cartoons from the one-time Perrier-winner offers a delight on every page. Brilliantly imaginative visual gags and charming sentiment combine, while his unashamed prediction for the geeky allow him to show off with illustrations that take a minute to sink in. What he lacks in the sophistication of his barely-above-stick-man drawing he more than make up for inspired-yet-silly wit.
Point Your Face At This, by Demetri Martin is published by Penguin, priced £8.99. Click here to buy from Waterstones.
Egghead, or, You Can't Survive On Ideas Alone, by Bo Burnham
Comic prodigy Bo Burnham wears his intellect more prominently on his sleeve, arrogantly even if you've seen his intense, coruscating stage act - or indeed the the title of his first book of poems (and occasional short piece of prose), illustrated by Chance Bone. They are all ruthlessly brief, often just four sharp lines, and are the product of a man clearly experimenting with the absurdity of ideas and especially word, with inappropriately juxtapositions, and sonorous couplets begin a trademark. Sometimes poignant, sometimes epigrammatic, often a bit showy, Burnham's verses are a clear extension of his rightly acclaimed stage performances.
Egghead by Bo Burnham is published by Orion Books priced £14.99. Click here, to buy from Amazon for £8.82.
Gus The Fox Crap Book
An attempt to make a minor internet phenomenon (if 100,000 Twitter followers qualifies for that) into a publishing success. Gus The Fox is a vile, foul mouthed scumbag of a creature who lives in Hoxton, East London. He's reminiscent of something out of BBC Three's Mongrels, or possibly the Mighty Boosh – and indeed Noel Fielding is a fan. But it's difficult turning an occasional series of brutal tweets although he is also the 'agony fox' for Shortlist magazine) into something more substantial, and any grubby appeal of this character wears thin if you do more than dip in and out. Gus is a decent comic conceit, fully realised with a vicious coarseness that packs a punch. Bult although author Matt Haydock surely had great fun compiling chapters such as 'A list of 10 Animals And The Stupid Things I've Shoved Up Their Arses' - an occasional change of tone would be welcome.
Gus The Fox Crap Book is published by Short Books, priced £12.99. Click here to buy from Amazon for £7.27.
The Best Of Alex 2013
The Daily Telegraph's entitled, self-serving uber-capitalist is no doubt one of those parodies who's a hit with those he's suppose to be satirising, but with the bankingindustry rarely out of the news, author Russell Taylor and illustrator Charles Peattie has plenty to keep them inspired over the past 12 months. There's a heavily reliance on the 'bait-and-switch' gag in the four-panel strips but this annual also includes the long-form cartoon It's A Wonderful Crisis, a full-colour Capra-inspired amorality tale, which appeared in the newspaper last Christmas.
The Best Of Alex 2013 is published by Prion Books, priced £9.99. Click here to order from Amazon, priced £5.75.
- by Steve Bennett
Published: 21 Nov 2013
What do you think?