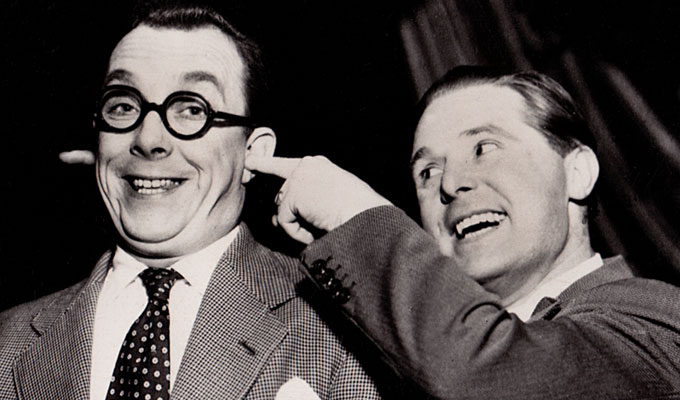 The Treasures Of Morecambe And Wise
On TV, Eric Morecambe and Ernie Wise absolutely owned Christmas. And for any fans receiving this lavishly prepared book this festive season – and it is clearly intended for the gift market – will again find their December 25 dominated by the adored duo.
The word 'book' in fact doesn't really do it justice; for this really is a fascinating treasure trove of memorabilia. For within its comfortably padded cover are four envelopes stuffed full of replica documents from the pair's rise up through the variety circuit to their heyday as national treasure.
Among them are are facsimiles of BBC notebooks containing Eric's jottings for jokes, plus a poignant note he wrote from his hospital bed before his first heart surgery; old theatre programmes; a wedding snap; an invitation to perform at the Royal Variety Show and a ghostwriter's typewritten outline of a possible Ernie Wise autobiography, based on an exploratory interview.
Meanwhile, posters range from a Bristol Hippodrome bill, where they are second in the line-up and advertised with the slogan 'You're only young once!' to The Intelligence Men, their first film.
The fact that you can pull these reproduction items out and handle them means you a real connection with the material (try doing that on an iPad!) and makes the experience the closest most of us will get to peeking inside the boxes of Eric Morecambe's substantial archive.
The text of the book retells the now-familiar story of Morecambe and Wise's rise through the showbusiness ranks, thanks in no small part to Eric's determined mother Sadie, their disastrous TV debut in Running Wild, their devotion to their work, and their ill-fated leap from the BBC to Thames, with its big-screen production arm.
Author Gary Morecambe tries to put a fresh spin on old tales - but there's only so much he can do. This is his sixth book about his father, so his options for fresh revelations are limited. His mother, Eric's widow, Joan also contributes a sizeable introduction.
As well as the items of reproduction memorabilia, the book is generously illustrated with glossy photos of the duo, many of them rare, all of them from a different era. Quirkier items from Eric's make-up box to the Morecambe and Wise board game are also pictured.
Few things would make as grand a collectors' item as this plush product.
• The Treasures Of Morecambe And Wise has been published by Carlton Books, priced £29.99. Click here to buy from Amazon for £19.49.
Competition
We have six copies of the book to be won.
To enter, just answer the following question by 11.59pm on November 22, and we will select the winners from all correct answers received. Usual terms and conditions apply.
Good luck!
What was Eric's real surname?
Recent Books
What do you think?