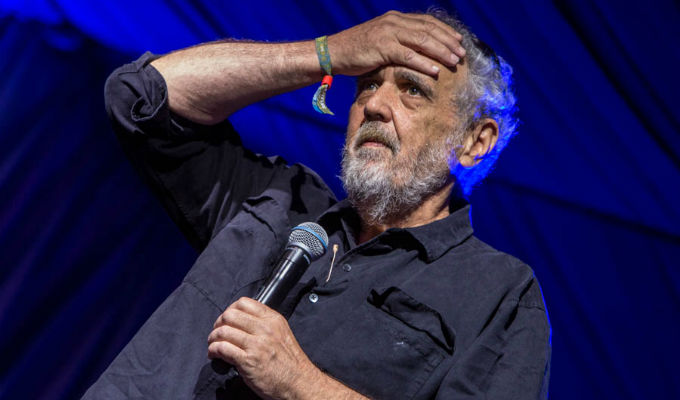 Barry Crimmins at Latitude 2017
Well-regarded American stand-ups have an unfortunate habit of coming to Latitude and bombing: Janeane Garofalo and Jen Kirkman have all struggled with the festival crowd and even the great Emo Philips encountered difficulties. For quite a while it looked as if the veteran godfather of the Boston scene, Barry Crimmins, would be the next addition to the comedians' graveyard in this corner of some foreign field.
He struggled from the get-go with a couple of lines so dry they barely registered with the crowd as jokes. And he made some peculiar choices, such as setting up the fact he was going to Skype his set across the Atlantic to his unwell fiancé, as if we would care (it seemed like it might be a joke, but it wasn't, and the technology didn't work either).
Then there were gags that required knowledge of US history or culture that the audience just didn't have. A quip about his appearance had the punchline: 'I should be playing Gabby on the chuck wagon' to everyone's bafflement. I've googled the phrase and am still not sure what it means.
Crimmins was unfocussed and ill-at-ease, clearing his throat awkwardly in the uncomfortable pauses after each gag. Then the heckles started… and all before the noise began bleeding in from Glass Animals on the main Obelisk Arena stage to distract him further.
But he dug in. 'I've done this for 45 years – I don't suck,' he insisted. 'I didn't come here to suck.' Then did a gag about the Battle of Gettysburg that again went unnoticed.
Finally, though, he broke through. And all it took was to call Donald Trump a 'rancid bag of horse arseholes'.
Warming to his theme, he started to address the big issues that matter to him: misogyny, drone strikes, the victim-blaming of Monica Lewinski , free universal healthcare…. All with heart, intelligence and spirit. Whether much of this counts as comedy is moot, but while there may not have been huge laughs, there was applause break after applause break.
Glastonbury had Jeremy Corbyn, but here Latitude got its own grey-bearded old socialist rousing the faithful.
Crimmins believes American voted for Trump as it hasn't come to terms with abuse. The United States, he believes, is full of people who hate themselves, so elected someone who hates them just as vehemently.
Abuse is something he knows about, having been a childhood rape survivor and indefatigable campaigner, shaming AOL into shutting down paedophile chat rooms in the early days of the internet in a David-and-Goliath legal battle, documented in Bobcat Goldthwait's fascinating Netflix film, Call Me Lucky.
If he wasn't going to be beaten by a powerful corporation, Crimmins sure as hell wasn't going to be beaten by a few hundred chilled-out festival-goers, and in the end his message about having the courage of your compassion won through. It might not have been a decisive victory over the audience, and achieved more on principals that jokes, but a narrow win is still a win.
Review date: 16 Jul 2017
Reviewed by: Steve Bennett
What do you think?