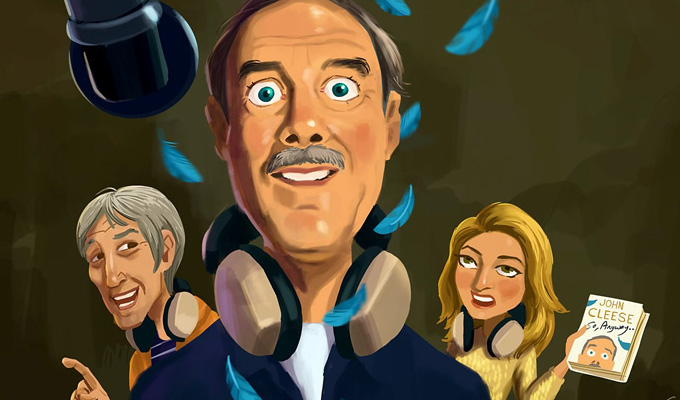 John Cleese Presents
So this is John Cleese's long-awaited return after decades of badmouthing their know-nothing executives. And what a peculiar – and short – programme it is.
John Cleese Presents, which made its Radio 4 debut this morning, is a 12-minute filler built around extracts from his three-year-old memoirs, So Anyway.
It starts with lots of 'ah, well erms' and nervous throat-clearing as the 77-year-old plays the baffled old duffer, confused that radio doesn't have images, thwarting his plans to have a 'display of finger-paining by the baboons of Cheshire zoo'.
The humour is old-fashioned, a supposed chaos you know is carefully scripted. While fans have presumably read the book already.
His first anecdote tells of how a fellow school pupil's controlled but maniacal rage at being unable to draw a perfect circle in geometry class would later inspire Basil Fawlty.
It sets up Cleese for a typically professorial, slightly patronising, description of his comedy, complaining that so much external analysis of Fawlty's fury is 'simplistic or just plain wrong'.
'It's worth trying to set the record straight,' he insists, sighing resignedly 'although I suspect such and attempt is doomed to failure.'
His musings are interrupted by a phone-in caller (Peter Dickson) who did not enjoy Cleese's work, a sketch which seems to serve to depict critics of his work in a snide, boring voice.
That leads to another reading from his autobiography about the formation of Monty Python, and the famous story about how the Oxbridge-educated team fell out over whether a surreal chandelier should be made out of a dead sheep or a dead goat.
Such readings might have made a good Radio 4 Book Of The Week had they done it when the book was published. However, the odd format, more suited to Radio 4 Extra continuity than a stand-alone programme, seems like an attempt to make up for lost time.
This is perhaps just an appetiser for Cleese's more high-profile return to the BBC later this year. His new sitcom, Edith, co-starring Alison Steadman, will certainly be much anticipated.
• John Cleese Presents will be available here, and continues on Radio 4 over the next four Wednesdays at 9.30am.
Review date: 10 May 2017
Reviewed by:
What do you think?