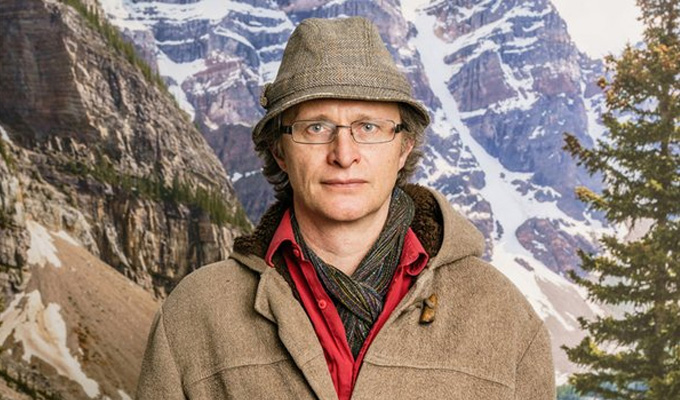 Simon Munnery: Standing Still
Simon Munnery could be his generation's Peter Cook. A bone fide comedy genius, but one showing little drive, at least in his performance, to maximise his innate brilliance.
Standing Still contains enough pithy aphorisms to convince you of his talent that has served him will over the past 30 years in the business. But the great lines are couched in the self-indulgent digressions of a comedian just mooching along, and delivered with semi-apologetic awkwardness.
'You like watching people put effort in?' he asks the audience, incredulously, after some roundabout diversion, as if that's anathema to him. He admits insouciance as a defence mechanism – if he doesn't try, then he can't fail – but the deliberate lack of application can be frustrating for those who are investing in a night out.
Showing no motivation to get to the next laugh, the show features two protest songs delivered absolutely straight: one from the Glasgow rent strike of the First World War, another about the agricultural revolution of the early 19th Century, which comes with a history lesson about the change in land use from 'common treasury' to ownership. Will this be in the exam? Then there's the long-winded, earnest discussion of his invention for heating tents that wouldn't survive five minutes in Dragon's Den.
But then, when you're least expecting it, he'll pluck a brilliantly smart gag out of nowhere that condenses a whole philosophy into a one-liner, and much is forgiven.
Munnery also has one eye on his own past. After one of the folk songs, he proffers an Alan Parker: Urban Warrior take on the genre. Later he briefly revives Buckethead for an updated few jokes. Then he holds up comic sketches from an old water-damaged notebook, not that we can make them out. It's as if the ideas never left him, never quite getting finished as his fertile mind keeps mulling them over.
Standing Still's new gimmick is that he comes on in a coat made of cider cans, like a cloak the king of the tramps would wear, a nod, perhaps, to the wisdom of the outsider.
But of course there's no real theme, recurring references to the evils of capitalism notwithstanding. Instead, it's a ragbag of poems, jokes, songs and off-kilter sketches with a quality as widely variable as the tone. Plenty of this fragmented show defies description: a conversation a couple have about skiing on a first date is simultaneously tedious and – surprisingly – touching.
When Munnery is good, he's brilliant, but the slower segments in Standing Still are the price you have to pay as he prospects for that gold.
• Simon Munnery is on tour until the end of April. Dates
Review date: 3 Feb 2017
Reviewed by: Steve Bennett
Recent Reviews
What do you think?