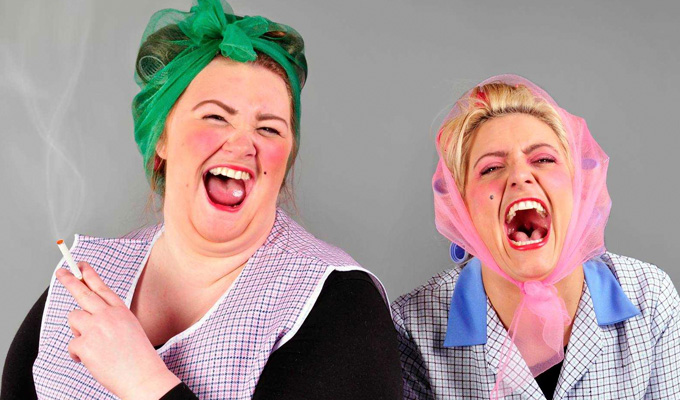 Scottish duo head list of rising comedy stars
A Scottish comedy duo little known on the traditional comedy circuit have topped a list of rising comedy stars.
The Dolls have made No 1 in a chart compiled by what's on website Ents24, based on audience interest in new comedy performers.
The act comprises Louise McCarthy and Gayle Telfer Stevens, who play a couple of cleaners, Agnes and Sadie, dubbed 'Scotland's favourite Scrubbers'.
Their latest show sees their pair win all-expense paid holiday in Greecne at the bingo, with the show's club joking: 'Tzatziki's a food? We thought it wis an infection.'
The pair are touring Scotland, Northern Ireland and Blackpool this autumn, including a date in Glasgow's Clyde Auditorium, and here's a promotional video:
In a statement, The Dolls, said: 'We are absolutely thrilled to be number one across the UK on the Ents24 Rising Comedy List and want to say a huge thank you for the support from all our Dollies who come time and time again to our show bringing new fans each and every time.
'It's so lovely to receive this acknowledgement that our hard work and determination is paying off.'
The chart has been compiled from acts added to Ents24's website in the last three years who have amassed the highest number of trackers in the last 12 months.
The company's head of communication, Adam Brooks, said: 'Lists decided by panels can be an indication of good lobbying or of the industry's priorities, and public votes are a good indicator of who has the biggest online presence
'But to get a true indication of the acts people are genuinely interested in seeing live, we believe looking at live entertainment fans' actions is a more accurate indicator of who fans are really engaging with, and that's why we developed the Rising lists.'
Online stars rate highly in the top 20, with US Youtuber Roman Atwood at No 2 and fake news reporter Jonathan Pie at No 3.
The highest-ranked traditional stand-up is Al Porter at No. 5, while others include Jamali Maddix (8), Yuriko Kotani (12), Jack Carroll (13) and Ashley Storrie (14). She said: 'I love lists! And it's great to be on one that's not featured on a toilet wall... that I wrote myself…'
Here are the top 20.
1. The Dolls
This Scottish duo have been taking Glas West End by storm with their musical comedy extravaganza and taking the top spot as our fastest rising comedy act of 2017 so far.
2. Roman Atwood
This American YouTube personality, comedian, vlogger and prankster last year toured the UK with fellow viral star FouseyTUBE.
3. Jonathan Pie
Fake news! TV reporter Jonathan Pie, the brainchild of actor Tom Walker, has become a viral hit thanks to has brutally honest views on politics, and he's taken the show on the road.
4. The Tenderloins
The starts of hidden camera prank show Impractical Jokers have filled arenas in the UK talking about their stunts and their long-lasting friendship.
This fast-rising young Irish comedian, who has just been named the host of Blind Date in his homeland, while being tipped for bigger things int he UK, too.
6. Prince Harry aka White Yardie
A social media star, White Yardie,who talks about the different cultures of Jamaica, is hitting the road for a mini-tour later this summer.
7. Michelle Wolf
A contributor to The Daily Show with Trevor Noah, Wolf was listed on Ents24 after appearing at last year's Edinburgh Fringe.

The former Chortle Student Comedy Award is one of the fastest growing comic stars on the circuit, and has starred in his own shows on Viceland.
9. Kapil Sharma

Already a huge star in his native India, with TV shows and millions of social media followers, Sharma has been added to the Ents24 database.
10. Doreen
A Black Country character, who first appeared in a YouTube mockumentary video, Lazy Cow.
11. Rose and Rosie
These two British YouTubers are a married dup who create weekly improvised entertainment videos, and recently embarked on a UK tour..
This UK based Japanese comedian won the BBC New Comedy Award two years ago with her bizarre observations on British life.
The former runner-up in Britain's Got Talent with a stand-up routine about his cerebral palsy, Carroll also stars in Sky's sitcom Trollied,
The daughter of comedian Janey Godley, Storrie is increasingly making her own name on the stand-up circuit.

A fast rising comedy star, most recent seen in Channel 4's Loaded, Adefope performs live in a series of offbeat and socially- aware characters.
Gaining getting through his backstage work on BBC's QI, Hunter Murray is also a cast member of the Austentatious improv group and BBC Two's new satire The Mash Report, having made his stand-up debut at the Edinburgh Fringe last year. He and other QI researchers are also behind the Chortle award winning podcast, No Such Thing As A Fish, which regularly stages live recordings.
17. Aunty Donna
Aunty Donna are big names Melbourne comedy scene with their surreal, fast paced, alternative sketch act. Currently touring through the States and New Zealand, they'll be back in the UK for the Edinburgh Fringe..
Nominated for Best Newcomer at last year's Edinburgh Fringe, Bilal's material is a mix of the topical, the anecdotal and the mildly bizarre.
19. The Harper Brothers
This comedy duo are the sons of Bobby Ball, whose act is described as a mixture of parodies, routines and song.
The BBC New Comedy Award winner 2016, Windsor-born, Cardiff-raised Jethro Bradley started in comedy via improv groups and has been performing stand-up regularly since about 2013.
Published: 26 Jul 2017
What do you think?