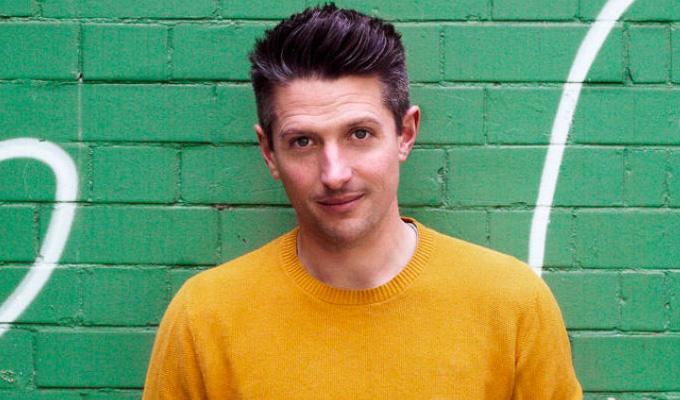 Stuart Goldsmith gets his fans to write his show
He's picked the brains of some of the world's best comedians on his podcast. But now Stuart Goldsmith is asking the public to write him an Edinburgh Fringe show, for what is believed to be the world's first crowdsourced hour of stand-up.
Everyone's A Comedian will feature him performing only material that has been submitted to his Comedian's Comedian Podcast website, which he will only get to see just before the show starts.
Goldsmith says he doesn't want routines from comedians, whatever their level of experience. 'The point of this is to give voice to those people, who when they walk past a fire engine and think of a funny thing, never have the chance to tell anyone about it,' he told Chortle.
'It's for those people who have things in their lives that make them laugh, that they wish they had the chance to share one time, but they're never going to go on stage.'
He will only see the material just before he steps on stage, 'so I can't over-prepare it' he explains. 'I want to just be taking the stuff as if it's been told to me in the moment, then see if I can make it funny in the telling. I don't want to absorb the material and make it my own, I want to be a mouthpiece if you like.
'If I wasn't excited about it, if I wasn't scared then it wouldn't be worth doing. Of course, there's every chance it's going to be a slow-motion car crash. At it's worst, it's going to be like one of those joke competitions you get in a provincial comedy club where they're trying to fill space, when they don't want to pay a middle act and the compere just reads out a load of submissions from the audience, where the racist ones all go into the bin and only one or two gems are left.
'But the listenership of my podcast is really funny. There are a lot of comedians in there but also a lot of people who email me to say they'd never dream of doing stand-up but that it's helped them lecturing dental students, for example. I've had a hostage negotiator tell me they learned something from the podcast.
'There are people out there with much more interesting jobs and dare I say, much more interesting lives than the sorts of people who are drawn to standing on stage and endlessly talking about their mediocre lives. As soon as I had the idea I thought it was genius but then I thought, "Oh God, I've got to do it now." I'm sure there will be some gold there.'
Goldsmith reckons that roughly 70 people have told him that they've been inspired to try stand-up, at least in part, by his podcast.
He said he was inspired to try stand-up after sharing a joke with Boothby Graffoe in 2001, after being introduced by a mutual friend. 'It made him laugh, and I remember how that made me feel, Goldsmith recalls. 'I think there are other people out there who've got similar funny little ideas, who would love to get them heard on stage'.
He rejects the suggestion that he's effectively cheating by outsourcing the writing process. 'It's like if the podcast was me trying to synthesise and co-opt all of the secrets of comedians in order to somehow use them for myself to turn into a super comedian,' he laughs. 'Well, we've seen how well that's worked out.
'You know the way that occasionally a comedian will post on Facebook, "hey guys, what's a funny way of talking about a wolf that's also something to do with a submarine?" And you just look at that and think, "write your own jokes mate rather than crowdsourcing them." I suppose it could be seen as that… I bet the arena comics wish they'd thought of this!
'But of course, it isn't about that. I'm not going to absorb this material into my act. This is very specifically and separately a one-off opportunity for listeners of my podcast to engage with it in a whole new way.'
The podcast's editor, Daryl Smith, will collate the submissions, with Goldsmith's sometime collaborator Steve Dunne, 'deciding what order the stuff is going to be in, filtering or red flagging some things. I thought it would be good to have someone who isn't a comic doing it because the less a comedian interferes with it, the better.'
Everyone's A Comedian won't appear in the Fringe brochure. Material can be submitted here – and there are more details on the current podcast, in which Goldsmith interviews Jeremy Hardy. The date and venue of the Fringe show will be announced in a later episode.
Those who submit jokes are required to tick a box to assert that their material is original and 'also waive all rights to the gear … on the understanding I'm not going to pinch the gear [but] I don't want someone to come to me in five years and go "that's a bit similar to a thing…"'
Goldsmith, who brings his more conventional show, Compared to What to the Soho Theatre for five nights from June 30, is also taking his new stand-up show, Like I Mean It, to the Liquid Room Annexe during the Fringe.
- by Jay Richardson
Published: 17 May 2017
Recent News
What do you think?