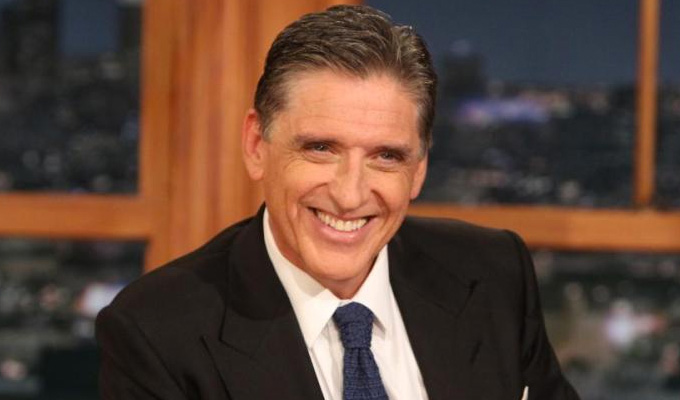 Craig Ferguson's Edinburgh Fringe comeback
Craig Ferguson is returning to the Edinburgh Fringe for the first time in 24 years.
The Scottish-born former US late night host is bringing his radio venture The Craig Ferguson Show to a new venue on Rose Street run by the Gilded Balloon, where he will discuss current events with guest from the festival and potentially perform stand-up.
Launched in February, The Craig Ferguson Show broadcasts live on Sirius XM Satellite Radio in the US.
Ferguson said that he'd 'finally made enough money in America so I can afford to work for [Gilded Balloon owner] Karen [Koren] again. As long it's only two weeks and she lets me sell snacks at intermission.'
Ferguson began his career on the British comedy circuit as spoof folk singer Bing Hitler after a short-lived time in a 1980s punk band called the Dreamboys alongside future Dr Who Peter Capaldi. He was spotted at the Fringe and moved to Los Angeles in 1994, becoming a US citizen during his tenure on The Late Late Show, currently hosted by James Corden after he left the role in 2014.
His television credits include Red Dwarf and One Foot in the Grave and a pilot for The Craig Ferguson Show on Granada Television with Paul Whitehouse and Helen Atkinson-Wood. He also starred in a Fringe production of The Odd Couple as Oscar Madison, before making his American breakthrough in The Drew Carey Show as the title character's boss, Mr. Wick.
Ferguson's chat show will run for 10 nights from 10.30pm to 1am at the Gilded Balloon at Rose Theatre venue in the former St Stephen's Church in the Stockbridge area of Edinburgh's New Town, which features a 300-seater main auditorium and three other performance spaces, hosting 40 festival shows.
Other shows featured in the Gilded Balloon's programme, announced today or previously, include the debut of impressionist Jan Ravens, Luisa Omielan's The Interlude - Politics for Bitches / What Would Mary Magdalene Do?!, Scott Gibson's follow up to his best newcomer winning debut, Like Father Like Son, a live performance of the podcast My Dad Wrote A Porno, shows from Robin Ince, Tom Stade and Shazia Mirza, plus broadcaster Stuart Marconie's: Jarrow Road to the Deep South, based on his memoir Long Road From Jarrow.
Koren told the Scotsman: 'I worked with Craig when he first started doing stand-up. He two gigs with me at McNally's and was heckled off during the first. I paid him £25. He phoned me up and told me he was coming back but had decided to change his name to Bing Hitler and wanted £40. I said: 'Don't be so stupid.' And I only paid him £25 for the next gig.
'I've kept in touch with Craig over the years and have always asked his management that when he comes back to do stand-up could he do it with me. He's obviously going to be performing with us here, but we shall see if we does any stand-up sets.'
Meanwhile, Capaldi, whom Ferguson credits with coining the name Bing Hitler before he stole it, might be set for a television reunion with The Thick of It creator Armando Iannucci, as the latter revealed he's in talks with Doctor Who showrunner Steven Moffat about penning an episode for his fellow Glaswegian.
'I'm a big fan of Doctor Who and obviously with Peter, who's loving it, it would be nice to,' Iannucci told the Guardian. 'I've spoken off and on to them but it's a case of being able to fit something in. It's a nice thought.
'In our conversations there was an idea we had, but it may be a wee while yet before we get round to working out when it would be. Knowing I am committed for the next year or so, it's all on hold. Let's get back in touch when we can.'
By Jay Richardson
Published: 20 Apr 2017
Recent News
What do you think?