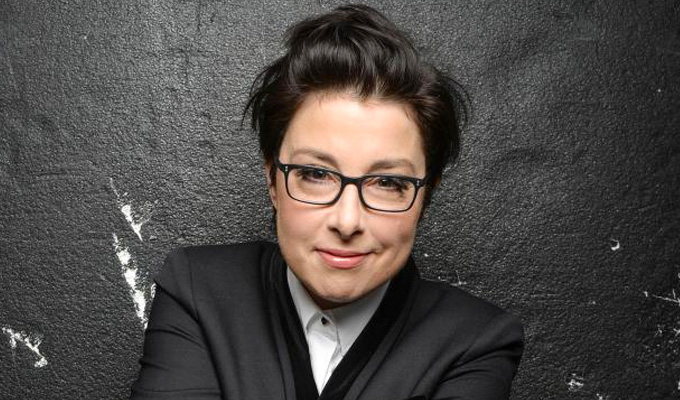 Sue Perkins to play the Edinburgh Fringe
Sue Perkins is to perform at the Edinburgh Fringe.
The former Great British Bake-Off host is the biggest name in the 132 new shows announced as part of the Pleasance's programme today.
She has not performed a full show at the festival since The Disappointing Second Show in 2006.
Dave Johns is also performing at the Pleasance – his first show in 18 years, and building on his success as the star of Ken Loach's I, Daniel Blake
Australia's Doug Anthony All Stars are also making a return, following their acclaimed 2016 show that was largely seen as a swansong. The Wrestling spectacular is also making a comeback.
Other TV names playing the venue. include Sara Pascoe, Nina Conti Nick Helm, Pippa Evans, Dane Baptiste, Gary Delaney, James Acaster and Matt Forde.
As the Fringe marks its 70th year, Richard Herring celebrates the 30th anniversary of his first Fringe with his 40th show in his 50th year, Oh Frig, I'm 50!, while Chortle's Fast Fringe will again showcase a diverse pick of 12 acts every day.
Here's the full list of Pleasance comedy shows going on sale today:
1 Woman, A High-Flyer And A Flat Bottom: Samantha Baines / 2017 Chortle Student Comedy Awards Final / Aaaand Now For Something Completely Improvised / Angela Barnes: Fortitude / Annie Sertich: How To Not Kill Yourself For 30 Days... And The Next 330 / Ben Fogg: How I Won Best Newcomer 2017 / Briony Redman: Theory of Positivity / Butt Kapinski / Catriona Knox: Adorable Deplorable / Chris Betts: Bewilderbeest / Colin Hoult/Anna Mann in How We Stop The Fascists / Dane Baptiste: G.O.D. (Gold. Oil. Drugs.) / Darren Harriott: Defiant / Dave Johns: I, FILLUM STAR / Doug Anthony All Stars: Near Death Experience / Ed Gamble: Mammoth / Ellie Taylor: This Guy / Evelyn Mok: Hymen Manoeuvre / Fast Fringe / Garrett Millerick: The Devil's Advocate /Gary Delaney: There's Something About Gary / Giants: For An Hour / Goodbear / Great British Mysteries / How to Be Good at Everything / Iain Stirling: U OK Hun? X / Ingrid Oliver: Speech! / Ivo Graham: Educated Guess / James Acaster: The Trelogy / Jayde Adams is Jayded / Jenny Bede: Eggtime / Joe Sutherland: Model / Actress / John Robins: The Darkness of Robins / Jon Pointing: Act Natural / Joseph Morpurgo: Hammerhead / Kae Kurd: Kurd Your Enthusiasm / Kat Bond: Loo Roll / Ken Cheng: Chinese Comedian / Kiri Pritchard-McLean: Appropriate Adult / Kwame Asante: Open Arms / Late Night Gimp Fight / Lloyd Griffith in: Undated / Luke Kempner: Take A Long Hard Luke At Yourself / Mark Watson: I'm Not Here / Me & Robin Hood / Mervyn Stutter's Pick Of The Fringe / Michael Stranney: Welcome to Ballybeg / Murder, She Didn't Write: The Improvised Murder Mystery / Natalie Palamides: Laid / Nicholas Parsons' Happy Hour / Nick Helm: Masterworks in Progress '17 / Nina Conti / Phil Dunning: The House of Pigs / Phil Jerrod: Submerged / Phil Wang: Kinabalu / Phoebe Walsh: I'll Have What She's Having / Pierre Novellie / Pippa Evans: Joy Provision! / Police Cops In Space / Rachel Jackson: Bunny Boiler / Red Bastard: Lie With Me / Rhys James : Wiseboy / Richard Herring: Oh Frig, I'm 50! / Rose Matafeo: Sassy Best Friend / Sara Pascoe: LadsLadsLads / Sean Patton: Number One / Sisters: White Noise / Stuart Laws Stops / Sue Perkins Live! In Spectacles / Suzi Ruffell: Keeping It Classy / Tessa Coates: Primates / Tez Ilyas: Teztify / The Andy Field Experience / The Comedy Reserve / The Free Association: Jacuzzi / The Inane Chicanery of a Certain Adam GC Riches / The Not So Late Show / The Wrestling / Tom Allen: Absolutely / Tom Lucy: Needs To Stop Showing Off In Front Of His Friends / Twayna Mayne: Black Girl
Published: 20 Apr 2017
Recent News
What do you think?