ADVERTISEMENTS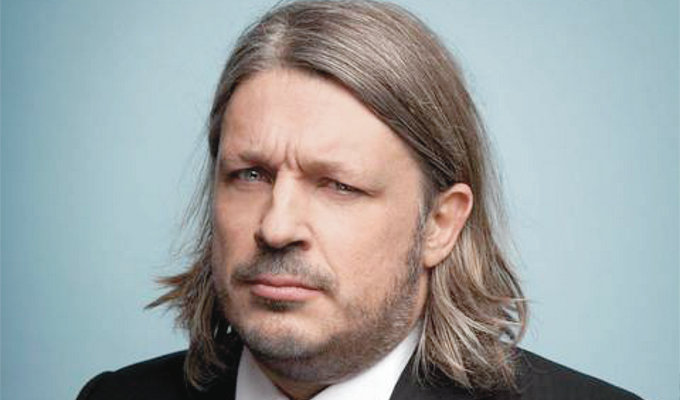 Comedy radio station launches
With podcast kings Richard Herring, Peacock & Gamble
Richard Herring, Peacock and Gamble and Carl Donnelly are among a raft of comedians broadcasting on a new radio station.
Fubar Live, which launches today, is the UK's first radio station broadcast only via a subscription-based app, priced £2.99 a month.
Promotional material for the station makes much of its 'uncensored' nature, as the output is 'untouchable' by broadcast regulators.
It promises 'provocative, entertaining, no-holds-barred chat, comedy and content that could never be heard anywhere else on UK radio, alongside uncensored music that is never play-listed or rotated'.
Mark Dolan will host the weekday morning slot, while other stand-ups on the station include Vikki Stone, whose Friday night show is billed as revealing the 'personal, intimate and downright filthy'; Jarred Christmas with a hip-hop themed show and Joey Page, who promises 'Mighty Boosh-style surreal flights of fancy'
Ellie Taylor will present celebrity gossip with Simon Feilder, while Alex Lowe's creation Barry from Watford shares fashion tips. And at weekends former Chortle Student Comedy Award-winner – and Radio One presenter – Tom Deacon will host a football show with Neil 'Razor' Ruddock in which they will take 'unedited and unscreened calls from passionate and opinionated fans'.
Herring will co-host his show with comic Lou Sanders, Peacock & Gamble will be interviewing guests from the world of comedy – similar to their acclaimed Edinburgh podcast distributed via Chortle – and Donnelly will be joined by fellow stand-up Chris Martin for a weekly show described as 'a mix of laddish banter and top comedy guests'.
The company plans to launch a sister station, Fubar Funny, within the next few weeks, dedicated to 'archive comedy content'. Costing an additional £1.99 a month, it places the emphasis on material 'banned' from traditional broadcasters.
The challenge will be whether listeners are prepared to pay for content, with the world's radio stations and countless comedy podcasts available online for free.
Jamie Moore, Fubar's head of marketing, said: 'We're a radio station that doesn't stifle the creativity of our presenters, allowing them to take risks and do things they couldn't on any other station. And we give listeners the chance to hear brilliant new content and engage with presenters through the app in a way they couldn't anywhere else.'
Fubar Live, which aims to be 75 per cent talk to 25 per cent music and aimed at 18-35-year-olds, launches today on Apple's iOS. An Android version is coming in two weeks' time.
The first week's line-up is below:
THURSDAY
9am: Mark Dolan
1pm: Ellie Taylor
4pm: Chris Martin and Tom Deacon
7pm: Richard Herring
10pm: Carl Donnelly and Chris Martin
FRIDAY
9am: Mark Dolan
1pm: Joey Page
4pm: Carl Donnelly and Chris Martin
7pm: The Friday Night Show with Vikki Stone
10pm: Ellie Taylor
SATURDAY
10am: Mark Dolan
1pm: Richard Herring
4pm: The Friday Night Show with Vikki Stone
7pm: Barry's Old School Beats with Barry From Watford
10pm: Ashley Hames
SUNDAY
10am: Mark Dolan
1pm: Joey Page
4pm: Barry's Old School Beats with Barry From Watford
7pm: Peacock & Gamble
11pm: Chris Martin & Joel Dommett
MONDAY
9am: Mark Dolan
1pm: Peacock & Gamble
4pm: Jarred Christmas
7pm: Joey Page
10pm: The Friday Night Show with Vikki Stone
TUESDAY
9am: Mark Dolan
1pm: Tom Deacon
4pm: Jarred Christmas
7pm: Chris Martin & Joel Dommett
10pm: Peacock & Gamble
WEDNESDAY
10am: Mark Dolan
1pm: Carl Donnelly and Chris Martin
4pm: Jarred Christmas
7pm: Barry's Old School Beats with Barry From Watford