ADVERTISEMENTS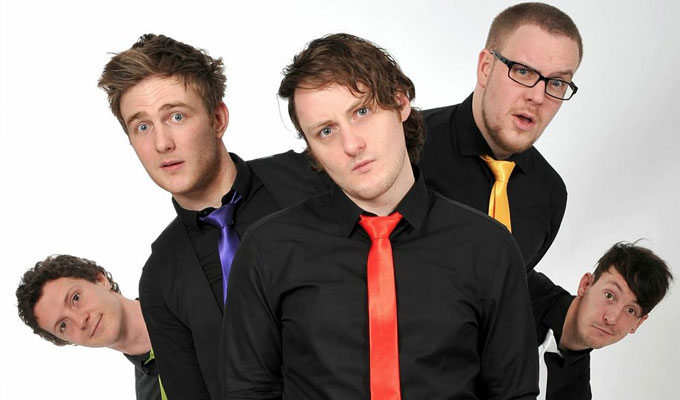 Steve Ullathorne
Give improv a chance!
Plea for Edinburgh awards to scrap their ban
The Edinburgh Comedy Awards are facing a call to scrap their ban on improvised shows.
Improv is not considered eligible for live comedy's biggest prize because organisers believe it is difficult to judge a show which varies from day to day because of audience suggestions against a more tightly-scripted performance.
But with recent award-winners such as Adam Riches and Doctor Brown being heavily dependent on crowd interaction, established improv troupe the Noise Next Door says is time for all improvised comedy to stand a chance.
In an article for Chortle's Correspondence section today, the five-man group say that improv is enjoying a resurgence that the Foster's-sponsored awards should acknowledge.
They write: 'The days of Whose Line Is It Anyway? rips-offs are fast disappearing, with various troupes and performers pushing the boundaries of improv and taking it to new levels. We headline comedy clubs up and down the country; Showstoppers have had sell-out West End runs, Abandoman played to stadiums as tour support for Ed Sheeran; Austentatious have had queues of hundreds of people waiting for hours to get in to their Free Fringe show for the last two years.
'To suggest that these successful shows are "incomparably different" from night to night is nonsense... The topics for improvised comedy do depend on the audience – but the quality of the comedy is down to the performers and that quality is entirely comparable.'
They add that the work that goes into devising an improvised format, and the skills in executing it, can be judged on a par with any other form of comedy show.
'Most comedy shows are different every night for that is the very nature of live performance,' they say. 'With other forms of comedy, dealing with the audience and reacting to the here and now is seen as a positive, a must even, yet it seems to count against an improvised comedy show in the context of the awards.'
The eligibility rules for the Edinburgh awards state: 'The show must be stand-up, character comedy, sketch/revue, comedy musical or cabaret.'
WHAT DO YOU THINK?