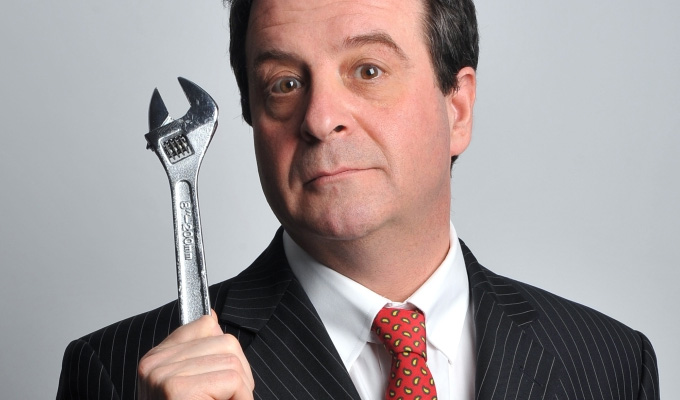 Mark Thomas in joke theft outrage
• 'The first gag I told my dad, I nicked from Steptoe and Son and passed off as my own. He hadn't seen that episode, so he never knew.' Mark Thomas
• Lucy Adams is the BBC's little-loved head of human resources, who came under the spotlight in the Commons committee looking at executive pay-offs this week. And it's also the name of Lee Mack's flatmate in his BBC sitcom Not Going Out – a character who also works in HR, as one of the show's writers, Paul Kerensa, pointed out this week. 'Same person?' he tweeted.
• It's all glamour being famous. David Baddiel judged an 'optical-themed bake-off' at Taank Optometrists in Cambridge this week. (Is that double-a to convince people they have double vision?). Local publicity described him as a 'well-known glasses wearer'.
• News reaches us of something called the London Comedy Lunch, where Dara O'Briain provides after-dinner speaking. It's a snip at £1,920 for a table of ten (and your drinks are extra). Or you could see him on a benefit bill with Tim Vine, Lee Mack and more for £15. Tickets (for the benefit).
• Patton Oswalt wishes 'one catastrophic failure' on every new comedian. Character-building, you see. Here's his story of the worst gig he ever had, part of a series from Late Night with Jimmy Fallon:

• Stand-up Lewis Schaffer was this week reunited with a couple who had their first date at his show three-and-a-half years ago. The couple, Alex and Alicia, bonded after finding themselves two-fifths of the audience of his London show 'and, when [Schaffer] discovered that Alicia was half-Welsh and half-Indian, that became the focus of the next hour's set', Alex told blogger John Fleming. 'So this first date became a kind of trial by fire for Alicia to defend her heritage as an Indian and a Welsh person and, three-and-a-half years later, we've stayed together and we're now engaged.'
• Sarah Millican has never been able to ride a bike.
• There's a downside to being on the Great British Bake Off. Sue Perkins said: 'I am constantly pouring cake mixture down my neck so I get a belt of lard around my stomach. I got mistaken for being pregnant the other day.'
• After Dad's Army last week, another random remixed sitcom theme tune. Only Fools And Horses:

• You can now get a top comic to call you up and tell you a joke personally. It's all part of a fundraiser called Tell A Joke For Parkinson's Day – October 23. The likes of Larry David, Jason Alexander, Michael Richards, Julia Louis-Dreyfus, Dennis Miller and Penn & Teller are all auctioning off their personalised gags on Charitybuzz.com, while Sarah Silverman is offering to record your voicemail for you.
• Are Radio 4 listeners ready for this? Stephen Fry is to discuss the history of the word 'fuck' in the next episode of Fry's English Delight, which goes out at 11pm on Monday.
• Tweets of the week
David Arnold (@DavidGArnold): Ray Dolby has died... Boo...hiss (actually,no hiss). R.I.P.
Dan (@ ehdannyboy ): Faculty - A Cockney that's run out of teabags
James Martin (@ pundamentalism ): Nice try Mountain Rescue, but I've played enough 'Air Guitar' to know that we'll be waiting quite some time for your 'Air Ambulance'.
Published: 13 Sep 2013
What do you think?