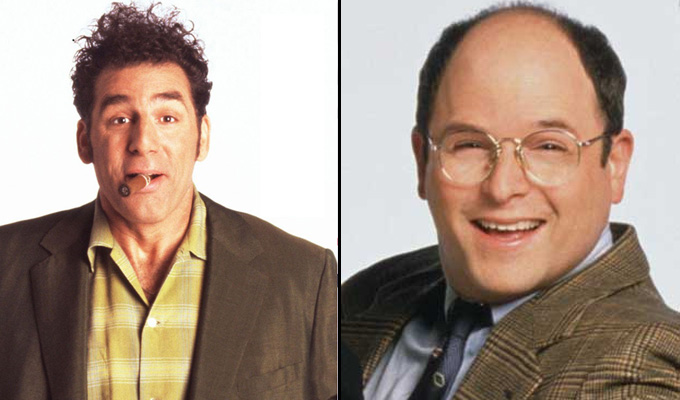 A Seinfeld reunion... kinda
ENTRIES have opened for the Amused Moose Laughter Awards – open to anyone doing a comedy show for at least 18 dates at the Edinburgh Fringe this year who does not have any arrangement with a DVD company. The £5,000 prize is decided by an industry panel, who first watch the shows online, then the shortlisted ones at the festival. Click here for further details.
NINE female comedians and writers have been on a BBC residential writing lab on an organic farm in Kent designed to 'address a lack of female comedy writers'. Over the week-long course, Sian Harries, Sue Elliot-Nichols, Maeve Higgins, Rose Heiney, Paula Hines, Lucy Beaumont, Marie Phillips, Isy Suttie and Mae Martin developed a one-line idea into a full treatment for a possible radio sitcom. Established writers Christopher Douglas, of Ed Reardon's Week, and Arthur Mathews, of Father Ted gave the women tips for their shows, which they will now pitch to Radio 4 comedy commissioner Caroline Raphael. Head of radio comedy Jane Berthoud said it was 'one of the most exciting and fruitful courses we've ever run'.
RICH HALL's fifth documentary on life in the States, You Can Go To Hell, I'm Going To Texas is to air on BBC Four on June 30.
PAUL SINHA last night recorded a Radio 4 show in which he proposes his own questions that should be on the British citizenship test. The show will go out in mid-August
Tweet
Follow @chortle
Published: 14 Jun 2013
SEINFELD stars Jason Alexander and Michael Richards are to reunite on Kirstie Alley's new sitcom. Alexander has signed on for a guest – and possibly recurring – role as the agent of Alley's character, a Broadway star; while Richards is in the regular cast as her driver. The sitcom, called Kirstie, is already hosting one sitcom reunion – as it also features Alley's Cheers co-star Rhea Perlman as her assistant.
Recent News
What do you think?