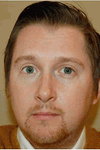 Why Richard Herring's the podcast king
If you've ever winced your way through a stand-up being interviewed on a TV chat show in the most agonisingly contrived way, then I have to recommend Richard Herring's Leicester Square Theatre Podcast (available here).
The podcasts (also known as the entirely unpronounceable RHLSTP) are, as you would expect, very amusing. But they are also revealing, interesting and even at times rather touching.
These podcasts, which won the Chortle Internet Award last week, have cemented Herring's role at the heart of contemporary comedy in this country. He has provided a platform for some of the industry's best known comic figures to actually discuss their art with honesty.
The whole concept is pure celebration. While Herring's erstwhile partner, Stewart Lee, seems content to pour scorn on the machinations of modern comedy (admittedly, sometimes with good cause) Herring has pushed himself forward as a champion of the form. While Lee has actively positioned himself as 'other' to the comic establishment, Herring finds himself at the heart of comedy in its most authentic form.
Comedy is, by its very nature, a medium of ambiguity. Comedians, as a species, make their points with subtlety, often employing complex narratives and alternative personas. As such, comedians find themselves misunderstood, misinterpreted and (almost inevitably) unfairly maligned.
Herring provides a platform for the examination of comedy. Not in such a way that jokes are dissected to the point where they cease to serve their function, but where comedians can discuss their methods and motives for how they choose to express themselves. Herring has created a forum in which the idea that comedy is somehow a superficial composite of trivial remarks and empty sentiments can be utterly dismissed.
From Stewart Lee examining the idea of the comedy character being simultaneously a separate and inseparable entity, to Russell Howard discussing the difficulties of being inaccurately (and incredibly dismissively) perceived as nothing more than a 'T-shirt' comedian, Herring provides insights to inspire and engage comedy fans new and old.
I am something of a newcomer to the comedy world, but using RHLSTP (and its pilot form, Richard Herring's Edinburgh Fringe Podcast) as a guide I am becoming increasingly immersed in the culture of comedy.
Possibly Herring's most significant achievement is to shine a spotlight on the depth and strength of the modern comedy community, away from our TV screens. He has helped comedy fans to realise that comedy on TV is not the benchmark for the health of the medium, but rather a reflection of how it is thriving away from our screens.
And by providing a welcoming and engaging window into the soul of comedy, not to mention providing opportunities for a series of up-and-coming comedians in his Edinburgh podcast, Herring is surely a comedian who comedic history will treat very kindly indeed.
And if you like RHLSTP, Chortle also recommends Stuart Goldsmith's The Comedian's Comedian and the Peacock and Gamble Edinburgh Podcasts.
Tweet
Follow @chortle
Published: 3 Apr 2013