Noel Fielding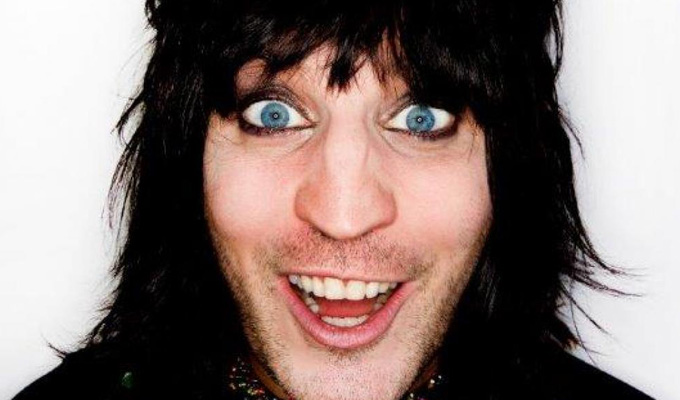 Date Of Birth: 1973
Although primarily known as one half of The Boosh with Julian Barratt, Noel Fielding has also maintained an independent career as a stand-up.
He has appeared at Montreal's Just For Laughs festival in 1998, and made stand-up appearances on Channel 4 and Five before finding success with The Boosh.
The double-act made their debut at the 1998 Edinburgh and Sydney festivals, earning them the Perrier best newcomer award, and returned to Edinburgh in 1999, when they were nominated for the main award, 2000 and 2001. The 2000 show, Autoboosh, won the equivalent Barry award at the Melbourne International Comedy Festival.
The Boosh was picked up by Radio4 in 2001 for a series which won the first and only Douglas Adams Award for Innovative Comedy Writing. The show transferred to BBC Three for two series in 2004 and 2005, giving them a cult success that enabled them to embark on a major nationwide tour in 2006.
For his solo work, he won the Time Out Award for Outstanding Achievement in Comedy, while his first live solo show Voodoo Hedgehog was nominated for the Perrier Award at the Edinburgh Festival in 2002.
His TV performances as an actor include The IT Crowd, Nathan Barley and Garth Marenghi's Darkplace – all for Channel 4.
Noel Fielding Videos
Reviews
The Entire Universe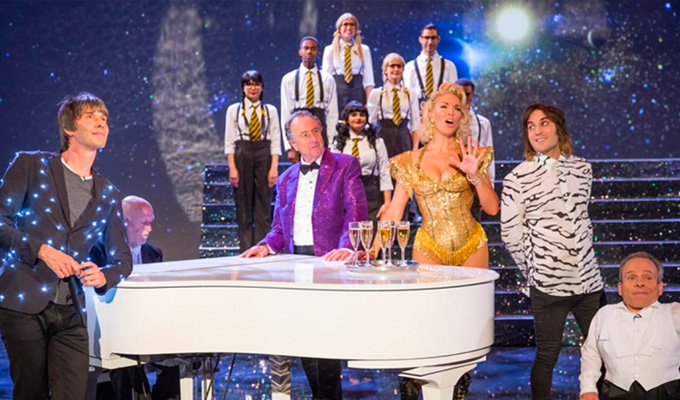 © BBC
There's a needlessly complicated set-up for this comedy-science extravaganza. For some reason, Eric Idle has revived his 40-year-old joke that England's smallest county has its own TV station, Rutland Weekend Television.
The gag in that case would clearly be that everything is done on a shoestring. Yet this is clearly a show with a decent budget that boasts famous guest stars and a sizeable professional dance troupe, choreographed by Arlene Phillips, not the amateur-sounding hoofers of the Muriel Tritt School of Music and Dance. The premise that Professor Brian Cox has been lured here under the pretence of giving a lecture, not taking part in a spangly musical, is equally thin.
But once introduced all these ideas vanish as quickly as an Omega baryon in a particle accelerator, as we get on to the project in hand: a shiny-floor showcase for the sci-curious, like the Royal Institution Christmas lecture produced by Andrew Lloyd-Webber.
The aim is for Cox to explain the 13.8 billion year history of the universe in about an hour, covering the Big Bang, expansion, the space-time continuum, fundamental particles, gravitational fields and more, with each burst of information subsequently 'explained' in a jaunty ditty.
Essentially, this is fun for anyone who's enjoyed the very Reithian mix of facts and entertainment that is The Galaxy Song from Monty Python's Meaning Of Life, which is included here alongside many other upbeat numbers.
'Actually, that's not quite right,' becomes Professor Cox's catchphrase as he tries time and again to undo the misinformation coined for a handy rhyme, including informing Noel Fielding that there isn't, actually, a particle named after Brian Eno when a number about the make-up of the Higgs Boson gets a little out of hand.
Fielding, who plays Einstein and is sometimes dressed as a pirate (it's a boson/bosun pun), is like a kid on a sugar rush, excited to learn but getting carried away with his fantasy. Warwick Davies joins in the droll jokes about his height. Hannah Waddingham, the original lady of the lake in Spamalot, is a sassy vamp, and Robin Ince continues his well-established role as Peter to Professor Cox's Jesus, helping spread the word. Even Morecambe and Wise get a look-in, courtesy of tribute duo Jonty Stephens and Ian Ashpitel, who perfectly encapsulate the light ent traditions of this upbeat show.
Other pizzazz-filled musical highlights include a wonderfully surreal spoof 1970s vibrato ballad about gravity, which puts the G in Bee Gees,; the jaunty It Makes You Feel So Small (no prizes for guessing who sings that one); and Waddingham's catchy Nothing Goes Faster Than The Speed Of Light.
There are some ersatz gags alongside the tunes. Has there ever been a spacey-based comedy show that hasn't included a variation on: 'Is intelligent life common in the universe? It's not even common at the BBC.'
But Idle has made a career out of knowing cheesiness, and that spirit permeates proceedings like the Higgs field – and ultimately it's hard not to be charmed by the showbiz spirit of The Entire Universe.
Even if some of the finer details of the science pass you by, Cox has always excelled in conveying the awesome scale and majesty of the universe, while instinctively understanding the communicative power of comedy. Both the sense of wonder and sense of humour are undimmed here.
News
Comments
Noel Fielding Dates
Sorry. We have no listings of forthcoming performances by this comedian.
Represented by