Jack Dee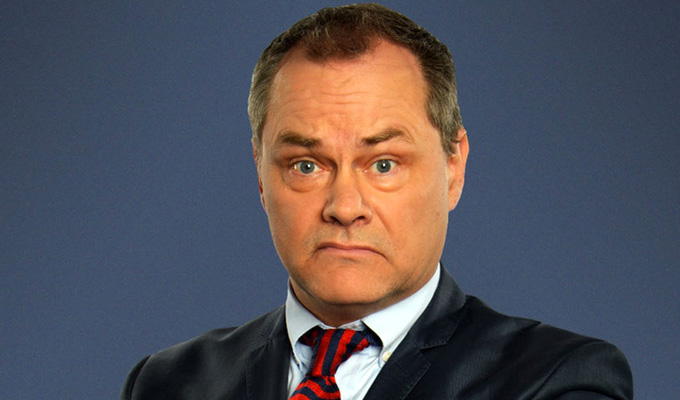 © BBC/Open Mike/Ellis O'Brien
Date Of Birth: 24/09/1962
Dee's first public act was an open-mike gig in 1988. He toiled away on the circuit with little success, while holding down menial kitchen jobs.
Disillusioned with his lack of progress, he was ready to quit when he took to the stage with a grumpy, 'couldn't care less attiude' which, to his surprised, won over the audience. In that moment he found his voice – and a career.
Things really took off in 1991, when he won the British Comedy Award for best stage newcomer as well as a Perrier Award nomination.
In February the following year he landed his own, series on Channel 4, setting him on the road to fame. By 1995 he was starring in his own series on ITV.
His list of awards to date include two at the 1995 British Comedy Awards, three British Advertising awards for his infamous 'widget' John Smith Bitter commercials in 1997, and the best stand-up gong at the 1997 British Comedy Awards.
As well as his comedy work, he has appeared on TV dramas including The Grimleys in 1996; fairground romance, Tunnel of Love in 2004; and The Deputy, where he played a political fixer alongside Warren Clarke, also in 2004. He has also performed in Yasmina Reza's award-winning play Art in the West End. Probably one of his most memorable television appearances was on the first Celebrity Big Brother, in 2001, which he won.
In 2004, Jack returned to stand-up on television with Jack Dee: Live At The Apollo featuring stand-up appearances from Joan Rivers, Ross Noble and Ardal O'Hanlon.
Jack Dee Videos
Reviews
Josh: Episode 1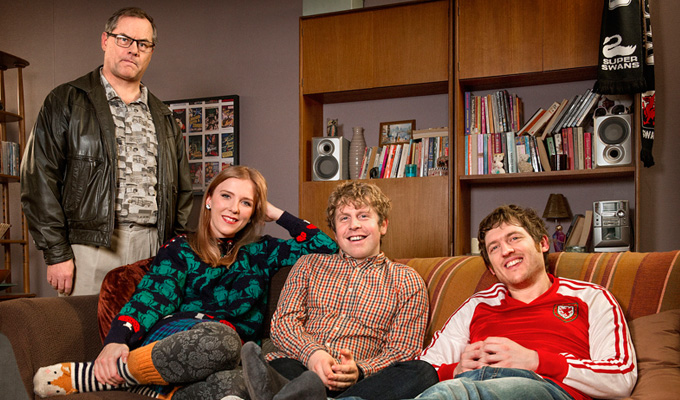 © BBC/Des Willie
Telly commissioners always say they're seeking distinctive voices in sitcom – and we've got a lot of them that fit that bill. From Catastrophe to Toast Of London; People Just Do Nothing to Detectorists.
Josh isn't quite like that. It's a perfectly OK twenty something flatshare sitcom for BBC Three's demographic, but on the evidence of episode one, doesn't have the strong personality of its peers.
Why, then, did the BBC pick it up from what must be a glut of similar scripts they get sent? It's surely down to the currency star and co-writer Josh Widdicombe has accumulated from the Last Leg.
Like almost every stand-up moving into sitcom, his screen character is not a million miles away from his stage persona; a rather woebegone young man, exasperated at life, and his own failings in it.
The Josh character shares a flat with the quietly confident Owen – Elis James's performance being the best thing about the show – and Kate (Beattie Edmondson) who's almost as hapless as he is. Then there's the obligatory weird neighbour role, in this case taken by Jack Dee as fogeyish landlord Geoff. It's hard to have an irritating character that doesn't actually irritate the viewer, and the jury's probably still out as to whether Dee's achieved this.
Episode one's plot has holes you could drive a platoon of tanks through, as Josh is invited to a hated pool party, but decides to go because of a girl. Big problem: he can't swim. Never mind that that the pool's shallow enough to stand in, that admitting his weakness probably wouldn't be an issue, or he could just not go in the water – you need to suspend disbelief here.
The script, written with fellow stand-up Tom Craine, is a little one-note in its sense of humour, too. There's lots of jokes based around the punny nicknames Kate garnered for her habit of biting when kissing, while she makes similar puns herself when nervous. It is typical banter of the age group, and they try to have it both ways by acknowledging the limits of the humour.
Also some of the jokes sound very samey, no matter which character is sayin them. In one scene Josh highlights Geoff's oddness by asking: 'Are The Boy In The Bubble?' In the very next, Owen asks of Kate's idiosyncracies: 'Are you Banksy?'
For its failings, Josh (which has been directed in straightforward manner by David Schneider) is watchable, entertaining and amusing, but it rather washes over you. A solid effort, and another stepping stone on the careers of all those involved, but unlikely to go down as a classic, and faring poorly when watched back-to-back with the superlative Peep Show.
News
Comments
Jack Dee Dates
Represented by
We do not currently hold contact details for Jack Dee's agent. If you are a comic or agent wanting your details to appear on Chortle, click here.
ADVERTISEMENTS
Products
Jack Dee: So What? Live
Channel 4 Comedy Gala 2013
Starring: Adam Hills, Alan Carr, Diversity, Jack Dee, Jason Byrne, Jo Brand, Jon Richardson, Jonathan Ross, Josh Widdicombe, Kevin Bridges, Lee Evans, Michael McIntyre, Miranda Hart, Nina Conti, Paddy McGuiness, Paul Chowdhry, Rhod Gilbert, Rich Hall, Russell Brand, Seann Walsh, Tom Stade and Warwick Davis.
Jack Dee: Live Stand-Up Collection 2012
Live at the London Palladium,Live and Uncut, Live at the Apollo, Live Again and The Best of Jack Dee's Happy Hour
Lead Balloon Series 4
Lead Balloon Series 3
Channel 4's Comedy Gala
Thanks For Nothing, by Jack Dee
Memoirs
Lead Balloon Series 2
Lead Balloon Series 1