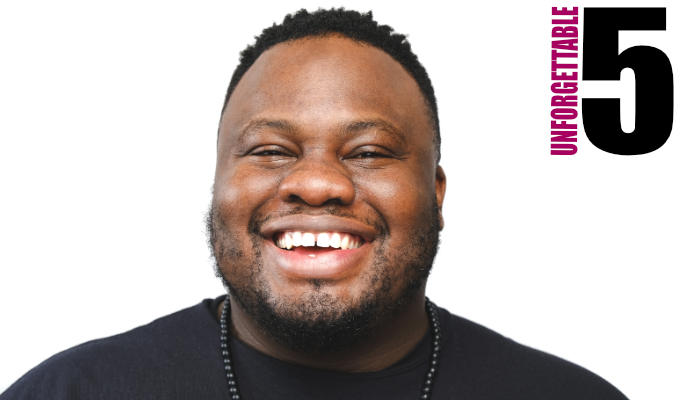 'I'll always be grateful for Britain's Got Talent'
As he prepares to return to the stage again – starting with a performance in Pleasance London next week ahead of a full autumn tour - 2020 BGT finalist Nabil Abdulrashid looks back at five of his most memorable gigs.
---
1. First gig
An open mic variety night which was held at the now-defunct Comedy Cafe, when it was in Shoreditch. It was 12 years ago but I remember it like it was yesterday. I was on after a gospel singer and just before a conspiracy theorist slam poet. Does slam poetry even exist anymore? I don't know.
Anyway, this night did not go well. The only person laughing was my big brother and he was laughing AT me. I consider the fact that I ever did stand-up again proof that I am either incredibly resilient or incredibly stupid. Probably a bit of both.
2. Best gig
It's a tie between semi-final for Britain's Got Talent and performing one of the first ever comedy sets to be done at the Dubai Royal Opera.
Both were huge gigs but couldn't have been more different. In Dubai, I was performing to a packed house of 2,000 people. It was one of the biggest gigs I'd done at that point and the sound of that many people laughing at your jokes is a truly exhilarating experience. To have that happen in such an esteemed and beautiful venue was something I'll never forget.
For Britain's Got Talent, the audience was a film crew, the judges, Ant and Dec, and that was basically it. Of course there were other people watching, but none of them actually in the room. Performing comedy on Zoom is something a lot of us comics have had to get used to, but for your first experience of that to be on national television, to millions of people, was quite a dive in at the deep end.
I loved it, though. I got to do my style of comedy and talk about the things I wanted to talk about on about the most mainstream platform there is. The fact that 3,000 people complained to Ofcom about it afterwards was just a happy bonus.
3. Gig that taught me the biggest lesson
My second ever gig. It was held at the now-defunct Comedy Cafe, when it was in Shoreditch. I absolutely stormed it. I realised at that moment that comedy isn't linear, that bad gigs will often teach you as much as good ones, and that I could make people laugh while standing on a stage. All those things were useful to know.
4. Gig that changed my life
The audition for Britain's Got Talent. I mean... it changed everything. I'd been going for a long time, had been a jobbing circuit comic for nearly ten years. I was making a living out of comedy but it was difficult. I felt like a lot of doors weren't open to me for whatever reason, and I was watching a lot of my contemporaries move up the ladder while I was staying in the same place.
I'm sure that there are lots of people who will look at something like Britain's Got Talent and be like: 'Oh well, your success is artificial. You just did a reality show to get where you are.' That's not it at all though - I had to do a reality show to get where I am.
I've done the hours on stage, believe me. And look, comedy is still difficult and I still have to work hard, but I believe in myself as a comic. I am good at what I do and, regardless of what else that show is, Britain's Got Talent helped to reinforce that belief and helped me move my career forward in all sorts of exciting ways. For that, I'll always be grateful.
5. Worst heckler
A group of drunk squaddies at Jongleurs in Bristol. Need I say more?
• Nabil is at Pleasance London on Wednesday May 19 as part of the venue's Comedy Comeback Season (Tickets) and then on tour from the autumn.
Published: 12 May 2021
What do you think?