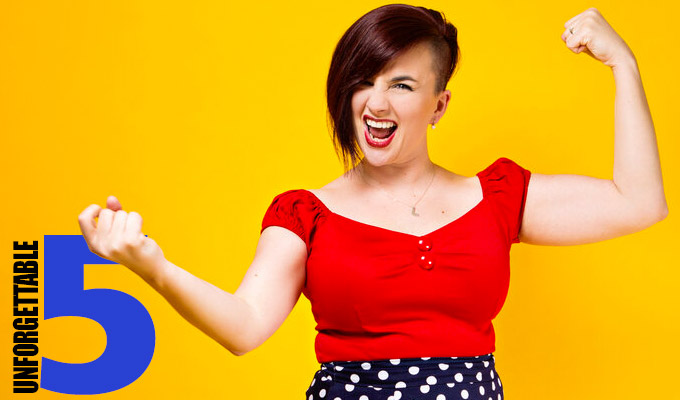 Stewart Lee just listed flavours of crisps – it was so funny
Laura Lexx, who is currently on tour with her stand-up show Knee Jerk, recalls her five most memorable gigs...
Best gig
Hands down Live At The Apollo.
I was stood there behind the big light wall, in a little square marked out by tape and the Man said 'as soon as the sign is high enough for you to walk under, go.'
Obviously, I didn't have to wait long for it to be high enough and I heard Sarah Millican saying my name (even that was mad) and suddenly I was out there.
I was nervous for two or three jokes and then I got a round of applause for one and I settled and I just thought: 'Enjoy this, it might never happen again.' It was a genuine dream come true.
Gig that taught me the biggest lesson
It was in Camden - I can't remember if it was a Highlight or a Jongleurs or whatever back then. I think it's Just the Tonic now. But I was doing an open spot and I died on my hole. Really died.
I came off and Julia Chamberlain (a great comedy booker) said: 'Have a think about the way you're dressed for a show like this' (I was super casual and it didn't really suit my style) and Mick Ferry (a great comedian) said: 'They didn't know you were the open spot til you brought it out there with you, bring the confidence.'
They were both totally right and since then I dress as if I was attending the gig as a punter and I walk out as if I am the highest-paid star on any bill. It helps.
Strangest audience member
Once in Margate, a bloke put me in a headlock after a show. I'd be interacting with him from the stage and then afterwards he was sort of saying he'd had a good time and he'd thought I was funny but clearly needed to also assert that he could control me somehow, so he put me in a headlock and walked me out of the venue.
I always try and find a back door now.
Best gig as a punter
One year at the Edinburgh Fringe the group of comedians called Invisible Dot organised buses out to a coastal venue where there was a gig with Stewart Lee and Josie Long and a load of other people and I laughed so hard at Stewart Lee.
I think someone heckled him about hurrying up and he lay on the stage just listing flavours of crisps and it was so funny. Everything about travelling to that, the feeling of something special happening, and then an incredibly good line-up afterwards was magical.
Least welcome post-show comment
'I don't normally like women comedians but you were really good.' It is awful.
Firstly, you're insulting a lot of my very good friends by saying you don't normally like them.
Secondly, you're making me wonder what I've done wrong that I'm sticking out from the other female comics like that because they're good and I want to be in their team.
Thirdly, if you thought I was funny then gender doesn't have to have anything to do with it - just tell me you thought I was funny.
• Laura Lexx is on tour with Knee Jerk. Click here for dates and tickets.
Published: 3 Mar 2020
What do you think?