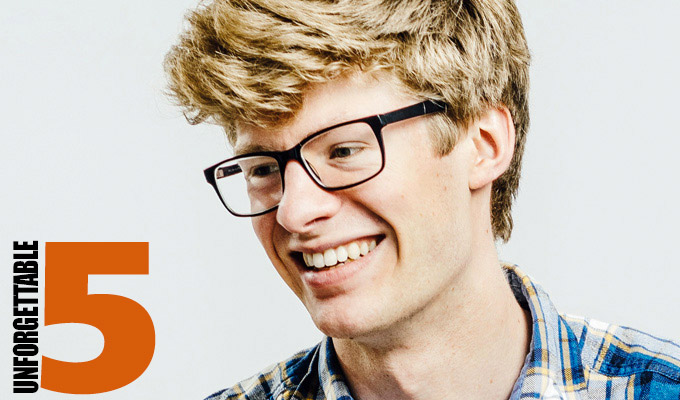 'That heckle was just the funniest, quickest, loveliest thing'
As Alex Kealy prepares to hit the road with his new stand-up show, Rationale, he shares some of his most memorable gigs.
Gig that taught me the biggest lesson
Whichever gig it was when I first learned, en route, that if a train was 30 minutes late you could get a 50 per cent rebate and the full refund if more than an hour. No amount of stagecraft is worth more than that information, given this country's chronic underinvestment in its transport infrastructure.
Gig that changed my life
So You Think You're Funny semi-final, 2011. Getting through to the final (nerve-racking, first review from this website's critic hehehe) meant I could get slightly better gigs as those little credits are really important when you're starting.
I'd absolutely not expected to make it through the semi and had to rearrange holiday flights to see my then-girlfriend. That surely in a small way helped contribute to the relationship eventually collapsing.
So that gig was also a useful initial lesson in the toxic implications for your personal life that any comedic success brings!
Best heckler
I was watching Comedy Countdown at the Gilded Balloon in 2010 or 2011 and one comedian panellists said something nice about another. Somebody from the audience as a result heckled 'kiss!.
One of the comics went: 'Oh, I don't really like that band' - a lovely improvisational save from a potentially icky sort of homophobic situation.
But then someone else in the audience shouted: 'Embrace!' and it was just the funniest, quickest, loveliest thing. I hope that second heckler now does comedy or at least improv.
Worst journey to a gig
If I'm permitted a worst journey from a gig, the return trip I had from a show in the Cotswolds in 2012 was a nightmare.
There were four of us car-sharing back - the headliner arrived separately so we could head off early. Then the car had a flat tyre and broke down. The car's appalling mileage and low tank meant we had to start driving north, the opposite direction, because a petrol station was closer. The car nearly broke again at the petrol station.
We then started driving back south to London. I was to be dropped off en route in Oxford, where I was in my final fortnight of university. The weather was fucking appalling. It was raining cats and dogs and wolves and sledgehammers and my overdraft and dumbbells and harpoons.
After a nominal 50-minute trip that became a thee-hour odyssey, we were 45 seconds from my house and the car clipped a traffic island, swerved and then aquaplaned. We smashed into a tree and then into a bus stop, totalling the car. A miracle nobody was seriously injured or died.
I had the sort of mad adrenaline that made me insistent I would change my ways and live each day with meaning, as if it were my last. 48 hours later? Right back to depressive procrastinating, baby! Seinfeld rules: Nobody. Learns. Anything.
Best gig as a punter
Daniel Kitson's Where Once Was Wonder in August 2012. I'd never seen him before but he'd of course been massively talked up by other comedians and I was bracing myself for that particular disappointment of a much feted piece of art being merely 'very good'.
Instead, that show was a revelation. Three stories (a declaration of love, shaving his beard, beheading a pig) all centring around the notion of life moving from infinite possibility to inevitability, each distinct but in the end unified. Absolutely packed with gags and insight.
I didn't have a seat so stood for the full 100 minutes at a Midnight Show and still I was sad when it finished.
• Alex Kealy kicks off his tour Rationale at the Vault Festival in London tomorrow night, with further dates until April 1 in Leeds. Schedule.
Published: 13 Feb 2020
What do you think?