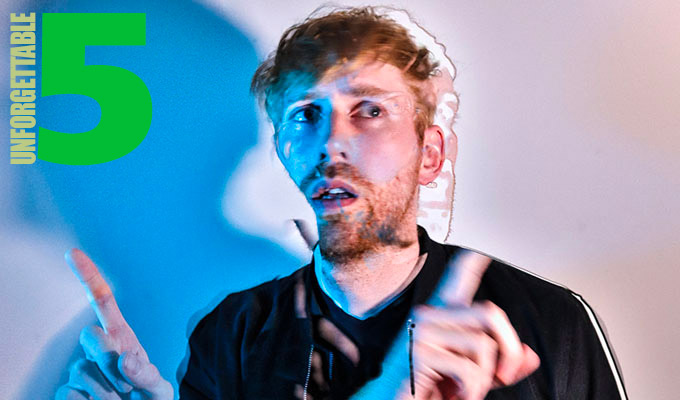 My most coked-up heckler, caught on film
Most drunk/coked up heckler
Most of the time, when someone heckles, you deal with it, make them look silly, they learn their lesson.
Not this bloke.
This guy was so off his face there was no stopping him. He shouted the words 'garden centre' throughout my entire set. The classic ole 'garden centre' heckle.
Towards the beginning of the set I have a joke about a garden centre in which the punchline leads the audience to think I'm going to continue talking and when I don't they then realise that the punchline has already happened, it's a slow burner.
I used to work at a garden centre, this guy asked me what water feature he should buy and I was like 'well…'
Trouble is he was so f*cked he thought I'd stopped mid sentence and just moved on. The poor bloke just wanted to know what happened at the damn garden centre.
Luckily, it was all caught on camera. Enjoy.
Most memorable gig night that I can't remember
I don't drink any more and this night is one of the reasons.
I had a show in Leeds where there was a really rowdy stag group that totally derailed the show for every act on.
After the gig I went downstairs to the main bar for a drink with one of the other acts, they had to get up early so left soon and I stayed to finish my drink. As I was about to head to my hotel, the father of the stag came up to me and shoved a Jagerbomb in my hand, the rest of the stag group from the gig earlier chanted for my to down it.
I didn't want to be associated with them as they were, as I had just discussed with the other act, 'a bunch of assholes'. But there was a hen party nearby watching, so of course I necked it like it was nothing. From this moment on the rest of the night is a blank. The next thing I remember is standing locked out of my hotel room in just my pants. I must have gone for a pee in the night and thought the front door was the bathroom door, I then had to walk to the reception in just my boxers in front of other guests returning from a night out to get a spare key.

The next memory is waking up at midday very hungover to a text from an unknown number saying: 'Are you still coming go karting?"'
Worst start to a gig
This happened while doing tour support duties for Seann Walsh. We got stuck in traffic on the M1 for nine hours straight and by the time we arrived at the venue delirium had well and truly set in.

I was immediately marched through the fire door right into the wings. No time to stretch, no time to pee, no time to get my head straight. It was all too much! Seann (of course) decided this was the perfect time to introduce me to stage with: 'Please welcome to the stage Dorothy Simmons.' That was it, I got the giggles.
I got to the mic and was already crying with laughter. Efforts at regaining composure were futile, I'd get to the second word of my opener and I'd go again - giggling like a schoolboy. Seann finding it hilarious, the audience… not so much. And this continued for five whole, excruciating minutes.
That poor audience, they'd been sitting there waiting for half an hour, they are expecting Seann Walsh, some bloke who they've never heard of comes on stage, when in the moments before were expecting a woman (thanks Seann) and this lunatic just won't stop laughing.
Sadly this wasn't caught on camera but its not the first time, imagine this but for five minutes straight.
Cruise gig from hell
So my cruise comedy career started and ended on the same voyage where I had been booked to perform two 45 minute clean sets.

I'll start in reverse order. When I came offstage the cruise director came up to me and started berating me in front of the other backstage staff for causing a number of walk outs because I said the word 'shit'. (The audience were quite old and I'd assumed they just needed the loo)
I tried to calm her down explaining that it was kind of her fault, weirdly this seemed to make her more angry.
Earlier in the day I was called to her office to have a quick meeting just in case I had any questions about the show. I did, I wanted to know what exactly 'clean' meant. This is used every so often for gigs and you never get an exact definition of what is and isn't allowed. Her response was 'just do what you usually do, that's what they booked you for.' Later, she denied all knowledge of this conversation.
I should have known this wasn't destined for success when I boarded the ship and was greeted outside the theatre by a massive poster saying: 'Playing here tonight Mark Simmons' accompanied by a huge picture of the black Chicago based comedian also called Mark Simmons.
Best audience-on-audience heckle
This was during my 2018 Edinburgh fringe run. I started talking about Game of Thrones and a woman in the crowd shouted 'No spoilers!' I asked how far through the series she was and she replied that she hadn't started it yet.
I said, 'When are you going to?' she replied, 'I'm going to read the books first'. To which another audience member shouted: 'There's spoilers in the books!'
• Mark Simmons: One Linerererer is on at Banshee Labyrinth at 16:50 daily.
Published: 15 Aug 2019
What do you think?