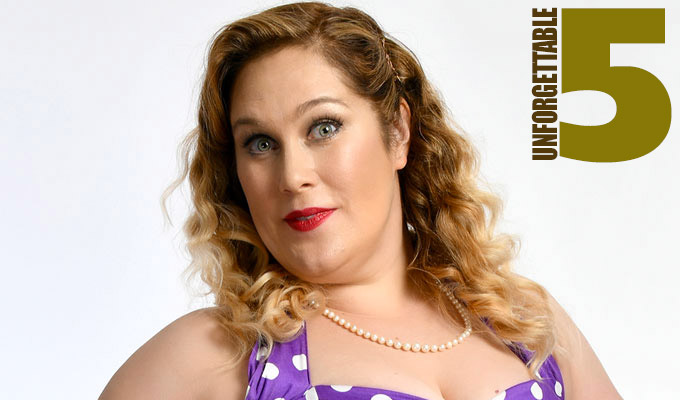 I try not to be violently sick EVERY time I gig
First gig
My first gig was televised. It's almost the biggest gig I've even done. And it was two years before I actually started doing stand-up.
Last year I wrote a show about how I was in an episode of How To Look Good Naked many years ago. What I didn't say in the show is that the following year the TV company came back to me to film a 'revisit'. When they were asking me what I was up to I got a bit cocky and said I was thinking of trying stand-up comedy at some point. They responded to this by arranging my comedy debut at a cocking massive venue in Liverpool Street.
Gok Wan introduced me and I was on the bill with some absolutely amazing acts like Benny Boot and Holly Walsh! I absolutely shat myself. Anyway, the audience were very generous and I ruffled my own hair a lot but I survived. I did enjoy it, but I was low level traumatised by it to the extent that didn't do it again until 2010.
Worst gig known to man
A few years ago I was booked to play a pub gig in South London. I won't name the other comics involved but they know who they are and every now and again we have a post traumatic stress chat about it.
If there was a shit gig bingo card then this would have been a full house, a bonus ball and holiday in Tenerife.
It was midsummer so the pub was bathed in daylight.
No one was expecting any comedy.
No one welcomed the comedy when it started.
There was a wireless mic that screamed with rage every time you went anywhere near the speaker. This meant you had to stand in the middle of the pub like a crazy person to do your set.
Andy Murray's Wimbledon semi-final was airing on the telly at one end of the pub.
Horse racing was airing at the other end.
It wasn't ideal.
The MC fought valiantly to get everyone – ANYONE – on board. And this is an excellent comic who knows his stuff. But after 15 minutes of people steadfastly not looking at him, he gave up and introduced me. Now, I'm used to a heckle but in a 20 minute set cut to 9mins 40sec I was asked to get my tits out a total of five times. Which I think is excessive.
The night ended when another act said something that enraged a lady sat at the bar and a fight started. The landlady wrenched the mic away from the act and yelled 'the comedy's over' and we all fucking legged it.
First Fringe
I did my first Fringe in 2013 in the Yurt at the Free Sisters. My now agent came to the first show of the run. It was raining, there was no one about and I was really starting to question the life choices that had brought me to this moment.
But I had my lovely friend Lisa with me and at the last minute, a group of people she had flyered came around the corner and piled into the Yurt. They were so generous and warm and my agent Viv was so lovely about the show afterwards. I thought I'd won Edinburgh there and then.
Vomtastic MC
Ages ago I MCed a charity night. I do quite a lot of MCing now but I was new to it then. I've always had a terrible habit of getting in my own way – I know I can do the job but I doubt myself at the last minute and end up ballsing it up.
But this particular night I was sick as a dog. Some might say I was very hungover but I would never say that. I had to go and hurl up the contents of my stomach each and every time I brought an act onto the stage. I was not in a good way.
Interestingly though, afterwards a few of my friends messaged me to say that I'd done a great job and it was the best they'd ever seen me do. Because I was busy painting the disabled toilets with my insides I didn't have the energy to worry about the job in hand. I try not to be violently sick every time I gig but when I feel nervous I remember that charity gig.
Poodle perfection
There's a newish comedy club that's opened quite near me in South London called The Poodle Club. I MC there a lot and it is such a bloody lovely place to work.
There was this one particular night where the atmosphere was just electric. Every act was smashing the balls off it, the audience were so up for it they were practically on the stage. I can't even put my finger on what it was that was different, but it was a night where the stars aligned and everything was perfect.
Maybe other acts have accounts of massive gigs with hundreds of people all loving their work, taking the roof off headline spots in massive clubs – but this little night with 50 or so people squished into a room in Sydenham was my all-time favourite gig.
• Lucy Frederick: Famtastic is at the Underbelly Bristo Square at 14:50
Published: 13 Aug 2019
What do you think?