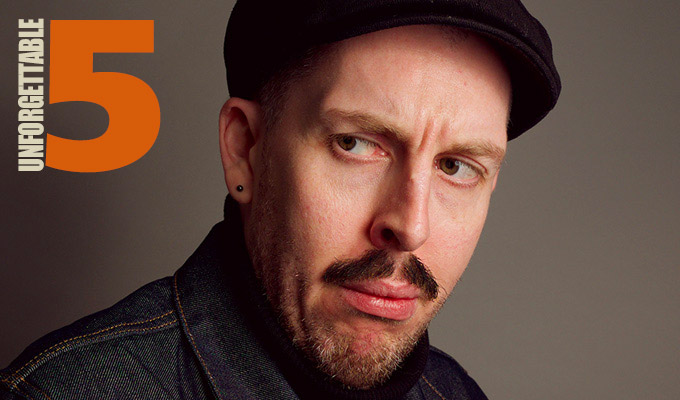 'I wiped the sick from my mouth and got on stage...'
Most unusual location
A few years back I performed on return flights from Edinburgh to London. It was a weird promotional thing for the Fringe where I had to do a ten-minute set mid-flight.
It was the second year they had done it and by all accounts the previous year had been horrendous due to the passengers not being informed of what was to come.
I was lucky enough that they had been given a flyer as they boarded explaining that as a celebration of the Fringe, they would be seeing a snippet of a comedian's show. It really helped as when I was introduced and stood up, they were very receptive and there was a sense of excitement that we were all involved in such a strange gig. 
Gig that taught me the biggest lesson
Latitude a few years back. I was hosting the comedy tent for eight full hours on the Saturday starting at 11am. I stupidly went out the night before and so drunk right through until the early hours then woke up in a terrible state a few hours later to begin my marathon gig hosting to thousands of people.
A couple of hours in, Janeane Garofolo was onstage for what was her first UK gig in years. I introduced her and then had to run to the toilets to throw up (my hangover had just reached its peak). I was in the toilets when a few minutes later I heard the stage manager calling for me, then banging on the toilet door telling me that Janine was 'coming off!'.
I had to wipe my mouth and sprint back to the comedy tent just as she was asking where I was as she wouldn't leave the stage until I was back (she was due to do 30 minutes but it had got off to such a bad start she had decided to walk).
I got to the side of stage, she stormed off and I had to then go on and ask what I'd missed. A few thousand people then filled me in on the previous five minutes. The lesson I learnt was one of professionalism. If you're hosting for eight hours with a stellar line-up, maybe don't get trashed and only sleep for a couple of hours.
Best heckler
For quite a few years there was a tradition in which the dad of Chris Martin (the comedian) came to my Edinburgh show and fell asleep half way through. I would then wake him up and we'd have a funny exchange about his snooze.
He is a lovely eccentric man who just gets very sleepy in the heat of an Edinburgh room so there was never an issue with it. The audience always seemed to enjoy our exchanges. 
Best gig as a punter
At the 2016 fringe, I was living with Jimmy McGhie and John Hastings. About halfway through the festival, Jimmy, who had been well-behaved and healthy up to that point decided to have a few drinks one night.
The next morning he walked into the flat at about 11am while John amd I were having our morning smoothies. He looked horrendous (as you do after an all-night drinking session). He also had things to do in the afternoon so couldn't sleep before his show. We later patched him up, made him drink loads of coffee and sent him to his show.
We then secretly ran to the venue and bought tickets (we bumped into Justin Moorhouse en route who joined us having heard the story). Watching Jimmy power through a show knowing the horror that was going on in his head was exceptional.
At one point he tried to convince the audience his bloodshot eyes were because of a morning swim! On hearing that, me, John and Justin lost it laughing and that was the moment he worked out we were in. It was a masterclass in 'the show must go on'. 
Worst journey to a gig
My car engine blew up once on the junction between the North Circular and the M1. Holly Walsh was with me and we were heading to Leicester. For some reason we decided we were still going to get to the gig so I got the tow driver to take us to Brent Cross (where my dead car lived for quite some time until I got it scrapped) where we began an odyssey of getting into town to make a train to Leicester that would only get us to the gig with minutes to spare.
It was so stressful but somehow we made this train. There were no seats but we were so exhausted from the three previous hours we just collapsed in the vestibule and sat there for the journey laughing at the stupidity of the mayhem we'd gone through just to get to Leicester and speak for 20 minutes each to strangers. 
• Strictly Carl Donnelly is at Laughing Horse @ The Counting House Ballroom at 18:45.
Published: 5 Aug 2018
What do you think?