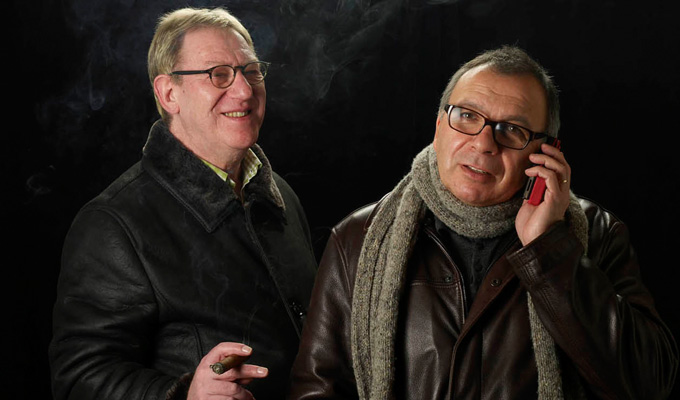 Blokes Of A Feather: An Evening with Laurence Marks and Maurice Gran
Show type: Tour
Forty years ago, Laurence Marks and Maurice Gran gave up their day jobs to become full-time comedy writers: their 40-year mission, to make millions laugh. The following decades took them from Borehamwood to Pinewood via Hollywood.
They created a hatful of hit TV shows, including Shine On Harvey Moon, The New Statesman, Love Hurts, Goodnight Sweetheart, and of course Birds of a Feather.
Along the way they won two BAFTAs and an Emmy, and founded Alomo Productions, one of the most successful TV production companies of the 1990s.

In the 21st century, Lo and Mo also found time to write for radio, theatre and the musical stage; Dreamboats and Petticoats, their first musical, was nominated for an Olivier Award. Currently they are working on several new musicals, and a memoir.
Despite all this, they've decided to go on the road to share their memories of a remarkable career, and of the famous and infamous personalities they've fought with along the way, including Frankie Howerd, Adam Faith, Zoe Wanamaker, Kate Winslet, Ray Winstone, Rik Mayall, Nick Lyndhurst, Warren Mitchell, Henry Winkler, Michael Winner, Michael Caine, Roger Moore, Cilla Black, and of course the birds of a feather, Linda, Pauline and Lesley.
Blokes of a Feather will provide a highly entertaining evening in the theatre…though we're willing to do afternoons if the audience wants an early night. There will be anecdotes, revelations, indiscretions, insights and lots of laughter, and plenty of classic video clips from their enormous back catalogue (Oooh, missus, as Frankie Howerd would have said).
Upcoming Dates
Sorry. We have no upcoming listings for Blokes Of A Feather: An Evening with Laurence Marks and Maurice Gran.