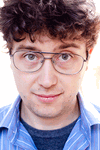 Alasdair Tremblay-Birchall: Trying Hard
Show type: Melbourne 2013
Canadian-Australian stand-up and sketch comic Alasdair Tremblay-Birchall has a humourful show about trying to do what you want despite the grinding devastation of reality.
This show promises to be better than sitting home alone thinking about death.
Upcoming Dates
Sorry. We have no upcoming listings for Alasdair Tremblay-Birchall: Trying Hard.
Reviews
Canadian-born, Aussie-bred Alasdair Tremblay-Birchall could fall into that double-edged category of comedians' comedian, gently mocking the conventions of the…
10/04/2013