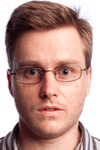 Dayne Rathbone: It's Me Dayne
Show type: Edinburgh Fringe 2013
Starring: Dayne Rathbone
Dayne Rathbone is perhaps the most original and exciting young comic in Australia. It's Me Dayne is an unimaginably funny, ridiculous voyage into the life and mind of this unusual man.
In his debut solo performance, Dayne recommends you view the show like one of those squiggly 3D pictures; you have to sort of just blur your eyes and not focus too hard, or just pretend you get it so nobody thinks you're an idiot.
Upcoming Dates
Sorry. We have no upcoming listings for Dayne Rathbone: It's Me Dayne.
Reviews
Dayne Rathbone is a difficult prospect for audiences.
8/04/2013
This comic also appears in: