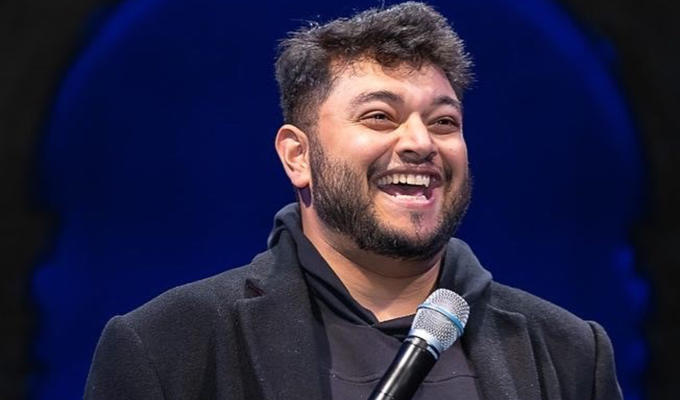 Sid Singh: Table for One
Table For One revolves around Sid Singh's two jobs, both of which he's passionate about: human rights lawyer and comedian.
There's some tension about which path he should choose, but he's clearly happy straddling them both. Certainly, there are transferrable skills, too, using his lawyerly powers of persuasion to get his points across in his stand-up.
While he professes to have little time for woke comics preaching to the choir, the sort of cases he helps defend – and the fact he's donating half the proceeds of his Fringe run to the Center For Gender and Refuge Studies advocacy group in San Francisco – speaks volumes.
Indeed, the thrust of the show is Singh encouraging people to be a 'bare minimum' liberal – his bare minimum does request a little more action than pressing 'retweet', but the idea is that small, achievable acts done en masse can nudge the societal dial.
There may also be a reason for his support of refugees beyond basic human decency. He's a global citizen – recoiling from the suggestion he should be yet another comedian who talks about his heritage, arguing that no one cares – who has couch-surfed his way around the world in the name of doing stand-up. He was even street homeless for a while, but it was very short-lived.
This is regaled in the personal half of the show, charting his issues with visas, educational issues and family life, including his parents' surprising acceptance when his brother came out.
The rest is more general observations advocating progressive politics, from supposed gay ally Beyoncé taking millions to play in the United Arab Emirates to describing the difference between being a pugnacious New York liberal and a more easily accepted Californian one.
Singh's subject matter clearly fires him up. An eagerly friendly guy, his delivery is energetic and slick. He slightly overuses some techniques with many sentences sharing the same punchy rhythm and him constantly insisting: 'This shit is crazy,' to convince us that it is.
He's prone to putting the politics over the comedy, submitting to the occasional sloganeering, but his enthusiasm is infectious. Liberals are often portrayed as being po-faced, but Singh shows you can be on the side of the angels and still have a good time.
Review date: 27 Aug 2023
Reviewed by: Steve Bennett
Reviewed at: Laughing Horse @ Cabaret Voltaire