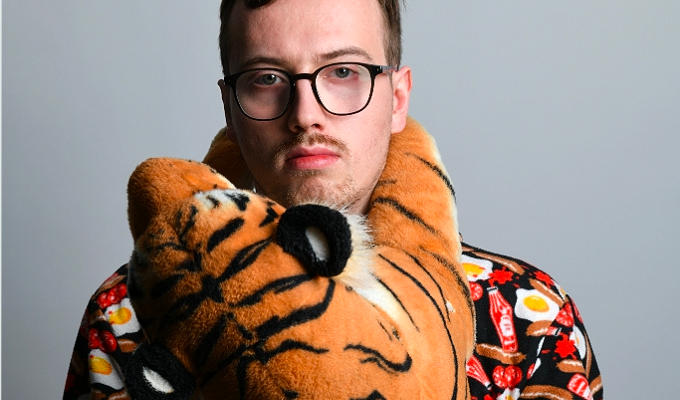 Eric Rushton: Not That Deep
Just days before the Fringe kicked off, Eric Rushton won the first Sean Lock Comedy Award given out by Channel 4, making comparisons with the late star hard to avoid, even if that's an impossible standard for a newish comic to live up to.
Rushton certainly shares some of the world-weariness that underpinned Lock's work, and sometimes hits upon similarly quirky ideas. But he doesn't find the same sense of joy in the nonsensical futility of the world.
Depression underpins his soul-searching sophomore show and Rushton worries that he's not equipped to be a comedian. He grazes some dark thoughts as he admits he doesn't love himself and believes he gets funnier the more his will to live ebbs.
It's true he's not a natural performer, and his low-key delivery works against him. He admits from the get-go that he won't be making any effort to convey charisma, and he's as good as his word. As an example of how he doesn't muster enthusiasm, Rushton doesn't want to open with the conventional 'it's good to be here' but instead state that it's 'emotionally complex'. Which is certainly more true.
But he keeps us guessing where the exact line of veracity lies. Is he really a hypochondriac, or does that just set up an excellent joke referencing Malcolm In The Middle star Frankie Muniz? Some of his material can actually be playful, even if it's not always conveyed in his delivery.
Birmingham-based Rushton is an inspired, offbeat writer and a comic who knows his craft. His work is often rooted in the mundane or the deconstruction of everyday tropes such the 'preaching to the choir' cliché, insisting that phrase should not evoke an easy crowd at all.
Likening the job of a stand-up to that of a prostitute is an overused analogy, and Rushton's version is awkward and overextended. Is that joke, or does he believe in this routine? The ambiguity pops up again, but the fact so much else in this show is original suggests he's playing us.
He's an intriguing act, for sure, and despite the awards and acclaim, an hour in his presence isn't a surefire hit, though there's plenty to enjoy.
Thanks for reading. If you find Chortle's coverage of the comedy scene useful or interesting, please consider supporting us with a monthly or one-off ko-fi donation.
Any money you contribute will directly fund more reviews, interviews and features – the sort of in-depth coverage that is increasingly difficult to fund from ever-squeezed advertising income, but which we think the UK's vibrant comedy scene deserves.
Review date: 16 Aug 2023
Reviewed by: Steve Bennett
Reviewed at: Laughing Horse @ Cabaret Voltaire