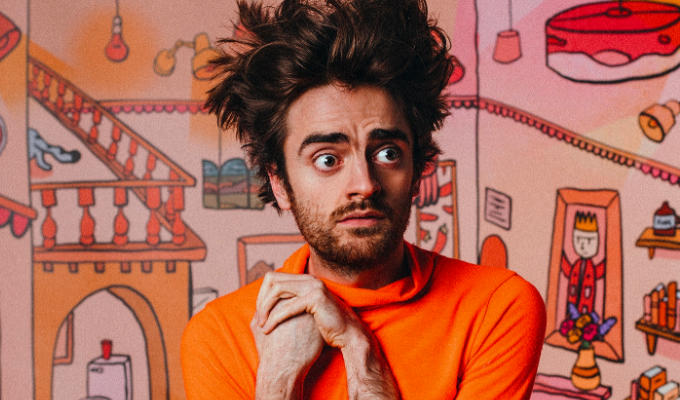 Luke Rollason: Bowerbird
Amazing, this man even has expressive toes! I'll hold my hand up and say that usually I'm a hesitant consumer of physical comedy and, urgh, clowning, but this is fantastic, even before it starts.
Wearing fluoro-hi-vis leggings and a skinny, orange polo-neck, Rollason patiently waits, lampshade on head, for his audience to find their seats. His balletically precise control of every muscle, joint and sinew makes each micro-gesture, a slow exhalation, a shoulder slump, into a readable emotion, mood or instruction. Without the lampshade, he looks like a handsome bushbaby, with more expressions than Jim Carrey and ten times more nuanced.
Economical with words, but not resorting to silly noises, he proposes a series of physical challenges, an interrogation of 'Why is this so funny?' and a neverending stream of inventive sketches with household implements. His superpower is the ability to make the commonplace hilarious and mesmerising. You could leave him alone with a kitchen drawer and he would create magic from it. This is not a children's show, but his stage persona has the Mary Poppins' charm that would spellbind them. It is spellbinding. Ever heard an audience 'aaah-ing' a metal tape measure before?
This performance was still a preview and with recently changed bits and cues, it was debatable whether the slightly shambolic dropped props and glitches were intentional or not, but since it all hung together, intention didn't matter. The precariousness of everything gives veracity to Rollason's statement that he created this show to stop himself going mad. A man on the edge would create a show that teeters on the edge.
He gives himself a slight break in the middle with an appearance by Mikey Bligh-Smith from The Lovely Boys offering a serene rendition of a love song as a singing armchair, which seemed perfectly reasonable at the time.
Bowerbird is beautifully constructed and tells many tiny, fleeting stories. Rollason maintains control and never descends to messy child's play, which is my usual gripe with physical comedy which so often seems to be stuck at spouting water and blowing raspberries.
Delightful, funny and with the occasional insight that offers more than a roomful of stand-ups, or reviewers, giving their opinion. I could have watched his face changing like the weather for an hour, and the lunchtime slot is the perfect first show of the day.
• Luke Rollason: Bowerbird is at Monkey Barrel at The Hive at 12.25pm
Review date: 5 Aug 2022
Reviewed by: Julia Chamberlain
Reviewed at: Monkey Barrel Comedy (The Hive)
Recent Reviews
What do you think?