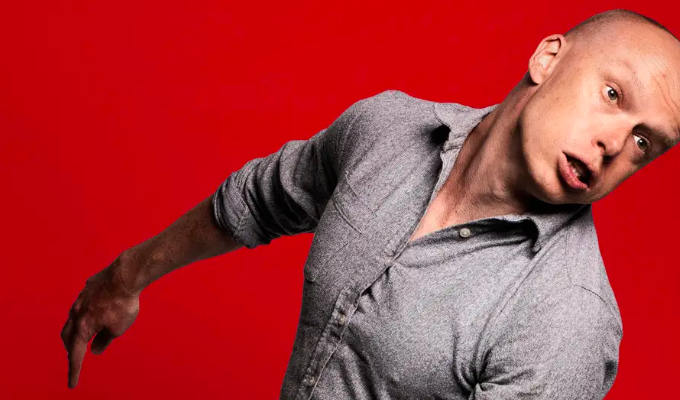 Jordan Brookes – This Is Just What Happens
Compared to the audacious high-concept fare that has so far been his trademark, This Is Just What Happens is Jordan Brookes at his most accessible and most personal.
It's an hour of stand-up about an encounter that gnaws at his anxiety, about losing his virginity late, about his looks, and about how his need for an emotional connection makes him a poor prospect for a no-strings-attached hookup. He joins the ranks of comedians owning their vulnerabilities and inviting us to laugh at them – and even does some supportive crowd work to show what a great, approachable guy he is.
Even so, things are not quite so straightforward as they seem. The threads intertwine and take unexpected turns, while his candour might not be all it appears. After all, who is a reliable narrator when it comes to reporting on their own character? Who thinks of themselves as a bad person, let alone a slimeball – the insult levelled at Brookes three years ago and that bugs him to this day?
It's knotty territory that resonates in these days when responsibility and reckoning rub against the right of everyone to define their own truth. Brookes offers an intriguing personal commentary on this, reaching a climax with an impressive set piece in which his nice-guy empath battles for headspace with his lustful base instincts
Like the best routine in the show – a delightfully frivolous aside in which he acts out just how people would genuinely react to seeing a ghost –it draws on Brookes's top-level physical comedy skills; his malleable, expressive face and loose, angular body. This often combines with his playful word choice – from the inappropriately cutesy euphemism for his first sexual encounter, to a laddish phrase for promiscuity that sits poorly with his intense, hyper-analytical reality.
But despite the superficial accessibility of his material, Brookes negotiates a tricky path. He makes the audience feel safe sometimes, awkward at others, as he talks around the subjects before their meaning comes into focus. The deliberately discordant energy was thrown further off-beam on this particular performance when an audience member Brookes interacted with gave odd yet confident answers that cost a lot of momentum.
Even without this, the show's many great moments don't quite gel into the sort of award-winning tour-de-force that Brookes has achieved before. But he nonetheless offers an intriguing look at complex traits – frequently hilarious, and as ambitious as always.
• Jordan Brookes: This Is Just What Happens is at the Soho Theatre until June 11; at Monkey Barrel comedy club at the Edinburgh Fringe, then on a UK tour this autumn. Jordan Brookes tour dates.
Review date: 1 Jun 2022
Reviewed by: Steve Bennett
Reviewed at: Soho Theatre