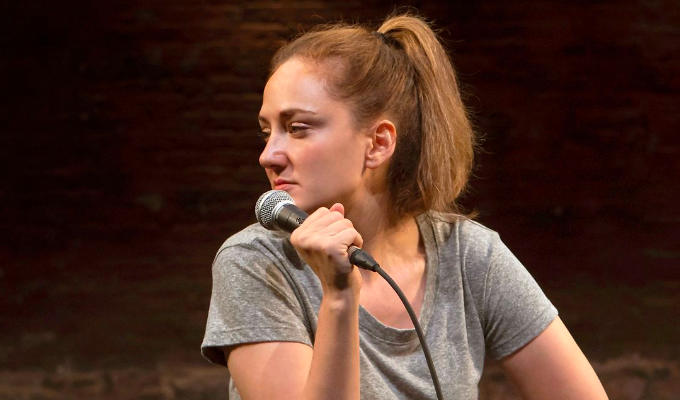 Jacqueline Novak: Get On Your Knees
Jacqueline Novak is the bard of the blow job. Not only has she committed a full 90-minute show to this one topic, but she does so with a rare flair, poetry and insight. Forget any suggestion that dick jokes are cheap and lazy, this deft and ambitious piece of purposeful storytelling makes them thoughtful works of art, without losing sight of the funny.
Anecdotes, ideas and perceptive comments tumble out of her at a relentlessly giddying pace, as she tells of overcoming her fellatiophobia to do the deed for the first time - while taking wild digressions both pertinent and not-so. She is both an over-thinker – to the extent that she has given careful consideration to the precise opacity she wants when she returns as a ghost – and over-reacher, both in the ambition with which she covers this apparently frivolous subject and in the sprawling metaphors she employs so engagingly. She even over-thinks her over-reach.
Novak was a teenage poet who hasn't lost the descriptive knack, especially when it comes to conjuring up audacious euphemisms for penises and vulvas. There's a social edge to some of this, too, with the dick portrayed as demanding and weak, puncturing the insecurities behind the machismo which backs every familiar expression surrounding the wee fella.
The fast-talking American professes a ceaseless quest for authenticity, and her story feels genuine, from the schoolyard advice from the 'blowjob queen' that terrified and intrigued her in equal measure, through her first, awkward sexual encounter, to her hubristic downfall. Or I should say penultimately, for in a flourish of narrative she lifts success out of the jaws of defeat with a defence of her blow-job technique that is so impassioned and considered, it's almost evangelical.
Rightfully garlanded with praise from its off-Broadway run, Get On Your Knees skilfully blends sexual politics with personal experience, philosophical notions and witty comments that swoop seamlessly between the confident and insecure sides of her personality.
Novak has Woody-Allen-in-his-pomp levels of introspection, flecked with nuggets of waspish wisdom worthy of Dorothy Parker, and a lightly-worn feminist understanding of the world which she never - for want of a better expression - rams down your throat. One thing's for sure: she doesn't suck.
• Jacqueline Novak: Get On Your Knees ends at the Soho Theatre tonight, then returns to London to play the Leicester Square Theatre on June 24 and 25.
Review date: 2 Apr 2022
Reviewed by: Steve Bennett
Recent Reviews
What do you think?