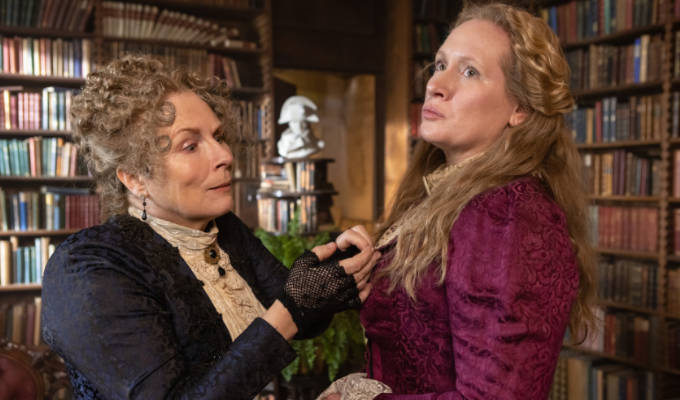 Ghosts Christmas special
Charles Dickens knew ghosts made the perfect Christmas characters… and now the spookily successful BBC sitcom has followed suit. Ghosts is already warm-hearted and laced with nostalgia, given its spectres come from down the centuries. It means a festive special is a lovely tonic: sentimental without being cloying.
This episode has a 'goodwill to all' message, too, with mansion owners Alison and Mike (Charlotte Ritchie and Kiell Smith-Bynoe) confronted with the arrival of a homeless man (Justin Edwards) in the garden. Of course Tory MP Julian (Simon Farnaby) offers no spirit of human kindness, even if he is called Nicholas, wears red and has both a white beard and an animal companion called Rudy…
Meanwhile, Jennifer Saunders is perfectly cast as the mother of po-faced Fanny (Martha Howe-Douglas) who gets to let her hair down, literally, in the flashbacks that explain her back story. While Saunders gets a dramatic turn, it turns out that stick-in-the-mud Fanny was quite the progressive back in the day, another way of injecting a bit of politics into the scripts.
There's also a couple of minor sub-plots, One has Robin the caveman (Laurence Rickard) claiming ownership of the land with dim-witted Mary (Katy Wix) as his legal counsel; and Thomas (Mat Baynton) posting for a portrait by Alison, which has a rather tragic conclusion.
Not that Ghosts ever hits emotional notes very hard – and that includes the jokes that wash gently over the viewer. Even a quite filthy double-entendre about Fanny's portrait is delivered so deadpan that innocent ears would never pick it up.
It's all as snug as Christmas by an elegant tree and a warming open fire – and with charming, generous company you feel instantly at ease with. There may be few laugh-out-loud moments, but it makes you feel good.
• Ghosts Christmas Special will be available on BBC iPlayer from 9pm.
Review date: 23 Dec 2021
Reviewed by: Steve Bennett
Recent Reviews
What do you think?