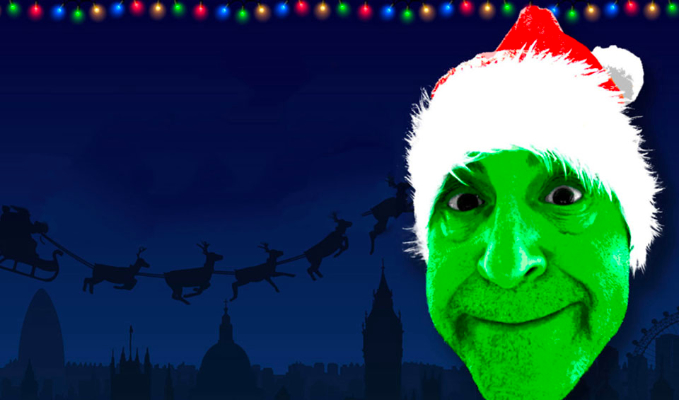 Mark Thomas: An Extra Plate
If you can't do sentiment at Christmas, when can you do it?
In An Extra Plate, Mark Thomas again puts his campaigning political comedy on pause to focus on his family, via selection of personal memories range from the seasonably gladdening to the achingly bittersweet. For, he explains, like all Christmas good stories, his comes with 'a whiff of death'.
We meet 'evil nan' and 'good nan', his open-minded Reverend sister, an array of uncles – not all blood relations in the extended community of his South London neighbourhood – his mum and his builder dad, previously the focus of the comic's touching stand-up show Bravo Figaro.
There's a truly heartbreaking tale towards the start of this show that fully explains why Christmas is so treasured by the family. A sense of community has long been at the heart of Thomas's shows, and that's amplified here.
Christmas is what you make it, and the 58-year-old sees his own values reflected in its baubles. Though it may be steeped in tradition, the celebration is, he argues, a rebellious act of defiance when the normal rules don't apply. He offers some considered thoughts on the nature of ritual – and more tongue-in-cheek traces his own atheism and Marxism to particular flashpoints in his past.
The Extra Plate is the one his parents always left at the table at the family home not far from the Battersea Arts Centre, just in case an unexpected visitor dropped by – and they usually did. Other sentimental memories revolve around the children enjoying Christingle service at his sister's church, the time his father played Santa Claus at the school fete, the Christmas he spent alone – and the Midnight Mass he experiences in a beautiful Cornish church, and was both wowed and tickled by the occasion. But still didn't find God.
Notions of togetherness bind all these stories, which are especially pertinent when Covid forced families apart last year, and casts a dark shadow over this one.
And Thomas is always a compelling and subtly emotive storyteller, creating a warm rapport from the moment he hands out mince pie baklavas on the way in. To risk a pun apt for this time of exchanging presents, he keeps his audience wonderfully rapt.
• Mark Thomas: An Extra Plate is at the Battersea Arts Centre until December 23, then on a short UK tour between Christmas and New Year. Mark Thomas tour dates.
Review date: 16 Dec 2021
Reviewed by: Steve Bennett
Reviewed at: Battersea Arts Centre
What do you think?