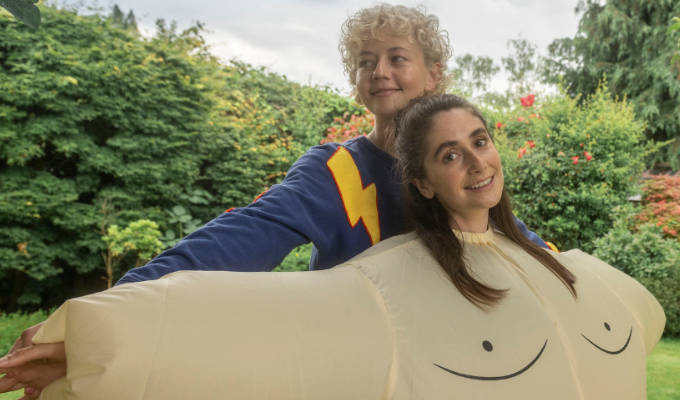 Britney
It will always be known as the 'brain tumour comedy'. But Britney is much less about a terrifying diagnosis than it is about a deep friendship between two quirky kindred spirits entangled for life. Or, as one character in this charming, joyous and offbeat pilot episode puts it: 'A creepy childhood codependence carried well into adulthood.'
At its heart, Britney is a platonic romcom between creators Charly Clive and Ellen Robertson, who play themselves in this telling of a true story. They meet at school and instantly click, making plans on the spot for a sleepover, family holiday and adult life in adjoining homes with a secret passage between them,
Fast forward a few years and that plan hasn't quite worked out – for any romcom need its obstacles. Charly has moved to New York to pursue her acting dreams, while Ellen is stuck in their rural childhood home of Cumwell, still dreaming of the day they can move to London together.
But the pals are reunited when Charly makes a flying visit back home – and after a fairly routine check-up gets the devastating medical news which, in this retelling, causes the ground to literally disappear from under her.
This bombshell comes more than 16 minutes into the 21-minute episode, which rightly spends most its time telling us about these two oddballs, their peculiarly close relationship and their problems adjusting to adulthood – a universal human experience, but one on which they have a particularly eccentric take.
Britney's roots as an Edinburgh Fringe sketch show are revealed in the way every scene has a punchline, while the script is awash with quirks that give the programme a distinctive, sparky atmosphere well matched to the pair's friendship.
It means that when the life-changing call does come from the hospital, these soulmates deal with it in the same way they approach the rest of their life: with their own brand of eccentric humour. Britney, for instance, is the name Charly gives her tumour. The same eccentric humour that leaps from the screen, along with their deep-felt affection for each other.
Clive and Robertson's performances and chemistry are as a natural as you could hope, and so utterly endearing, the viewer feels right there with them when the awful news come. But the warmth – and the silliness – gives hope that everything might be all right despite it all.
Yet, sadly, there isn't a full series ready to binge, as this tender, witty pilot leaves you yearning to find out how the pair deal with the biggest of life's issues through their love and humour.
• Britney was released on BBC Three iPlayer today.
» Interview with Charly Clive and Ellen Robertson
Review date: 30 Nov 2021
Reviewed by: Steve Bennett
Recent Reviews
What do you think?