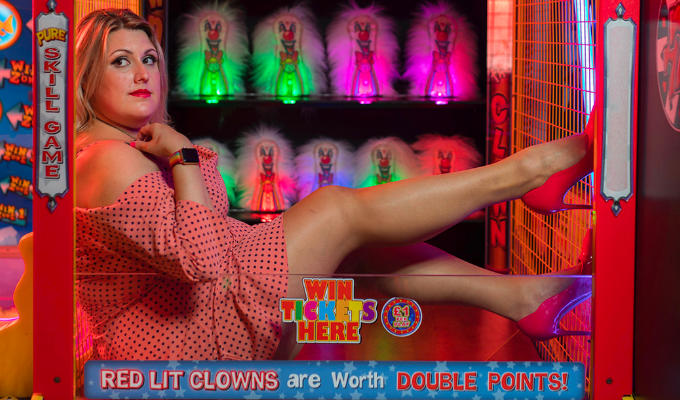 The Comedy Arcade
Yes, it's another podcast of comedians shooting the breeze to a loose format, but in this live version of the Comedy Arcade, a great combination of guests playing up to the audience made for a constant flow of laughs.
The mix of talents is key, and last night's trio split along two lines. First, there's working-class Rich Wilson contrasting against the erudition of the two Robins, Ince and Morgan. On another axis, you have the garrulous storytelling of Ince and semi-regular contributor Wilson, both anecdotal machine-guns compared to the sniper-like wit of Morgan, who says much less, but each arch line is deadly.
Billed as part game show and part chat show, the explicitly competitive element is non-existent even by the loosest standards of the genre. However, there is definitely a good-natured battle for audience acclaim that makes all the guests up their game.
The format is simply that host Vix Leyton selects broad topics, normally at random from a numbered list, and invites the best anecdotes. Close, perhaps, to Alan Davis As Yet Untitled, but livelier and looser, as the subjects have not been tailored to prompt stories that have been agreed in advance.
Nonetheless, topics such as 'life hacks' or 'petty grievances' trigger hugely entertaining tales, such as Ince being in an all-singing all-dancing production with Su Pollard, Wilson's youthful dalliances with arson, or Morgan's teenage car-park antics.
Nuggets of info become in-jokes for the night, and the conversion runs thick, fast and funny. This show certainly lives up to its billing likening it to a fabulous dinner party. Punters feel they are among spontaneously funny friends rather than hearing well-rehearsed professional anecdotes. We know these stories - and this particular alchemy - will not be repeated again.
Leyton hasn't a great deal to do in this show to keep things on track, but a good host knows when to shut up and let others do the talking. It's clear she's a fan of the comics she's sharing a stage with, and her generosity towards them helps fuel the feeling of relaxed, friendly intimacy.
So, sorry, but this is yet another podcast any comedy-seeker should have on their already overcrowded radars. Especially if you can see it live.
• The Comedy Arcade will be at the Counting House at the Edinburgh Fringe from August 25 to 29 at 7.30pm. And the podcast is here.
Review date: 9 Aug 2021
Reviewed by: Steve Bennett
Reviewed at: The Water Rats
What do you think?