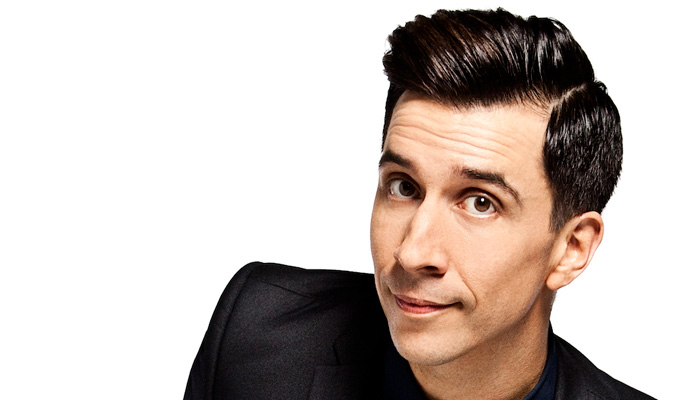 Ealing Comedy Festival 2021 opening gala
It just scraped in past the preposterously nicknamed 'Freedom Day' in any case, but even so the Ealing Coned Festival seems as Covid-safe as you like, being held in a massive open-sided big top and with council-imposed social distancing meaning empty seats in a sold-out gig.
The joy of being back at a gig was palpable for punters and acts alike. The fact it was a glorious summer evening in an attractive park, the craft beer flowing freely, was a bonus.
Host Russell Kane only had to say 'it's so good to be doing something normal' to get an ovation. Heck, even the promise of a poem from a later act drew applause - that's how much we need any sort of live performance.
Kane had been in the country for just a few hours before taking to the marquee stage, following a trip to a club-free Ibiza. But his natural state is to buzzing with the energy of banging all-nighter, heightened by the fact he gets to share with a real-life audience his thoughts on the pandemic and his ridiculous job.
Audience banter is cleverly upended: every job becomes heroic compared to his flippant profession whose only aim, he notes, is to persuade people to open their mouths and spread airborne particles. Laugh, we used to call it.
And that he did. His passionate has an R-rate that's of the scale, and he definitely struck some chords with his funny, pointed observations from these peculiar times.
Ever class conscious, he found a new division to exploit: between those jabbed with Pfizer and AstraZeneca.
As the routine went on, it became looser - he wasn't the only act of the night whose lack of gag-fitness and delight at being on stage cost them a tight edit. And by the time hie was introducing the third section it had become something of an anti-Boris rally, earning claps of approval for highlighting the overwhelming weight of Prime Ministerial incompetence more than laughs. But he was a thoroughly engaging, and engaged, host.
Opening act Joanne McNally tried to match Kane's energy, which came across as a big over-the-top until she settled into her own groove: namely being a bit dirty with an unflinchingly direct approach... which might have set her at odds with one oversensitive 'snowflake' date she went on. The Irishwoman has got the gossipy, indiscrete persona down to a tee, with some solid lines in her short set, too
'I don't know if you've noticed, but I haven't hit any jokes,' said act No2, Ricky Grover, at one point. There is some truth in that but it doesn't matter much as his 'I don't want to be here' shtick goes down a storm.
The circuit veteran skilfully incorporates some previous badinage from the gig into his own set, which works well reminding us all of the 'in the moment' nature of live comedy, while his perennial closer - which draws on his previous occupation as a boxer - is gimmicky but a surefire crowdpleaser.
As a Russian-born outsider, Olga Koch is well-placed to mock some of the odder aspects of British life, especially through the prism of the immigration process. American 'culture' also gets a skewering from this personable comic, thanks to the incongruity of her American high school education… conducted in Staines.
Local lad Nathan Caton had 18 months of pent-up observational material to get off his chest: relatable material about masks, supermarket social distancing and, most pointedly, the frustrations of being cooped up with the same person for 18 months, however much you love them. It seems a lot of people know EXACTLY how he feels.
Opening the final section came another local in the shape of Shappi Khorsandi, who scored some Brownie points for her neigbourhood knowledge, and the vagaries of the South Ealing internet groups - though the petty, virtual curtain-twitching is pretty universal, wherever you live. Her set was a little loose and chatty, until she settled into material from her new tour about dating in the 1990s as a twentysomething and doing so now when she, and the whole process of meeting partners, has changed considerably. Again, a lot of laughs of recognition in this section.
Jeff Innocent's been in this game a long time and he nailed his closing slot with a well-honed set about his East End skinhead look and demeanour - 'the most racist-looking comedian on the circuit' is his boast – belies his liberal belief.
That's not to say he hasn't got his own prejudices, with Northerners getting a particular pasting for being backwards. It's a playful set, given impact by his big geezer energy and his playfulness around the hot-button topics, and closed the gig on a high.
• The Ealing Comedy Festival continues at Lammas Park until Sunday. Line-ups and tickets.
Review date: 22 Jul 2021
Reviewed by: Steve Bennett
Reviewed at: Ealing Comedy Festival
Recent Reviews
What do you think?