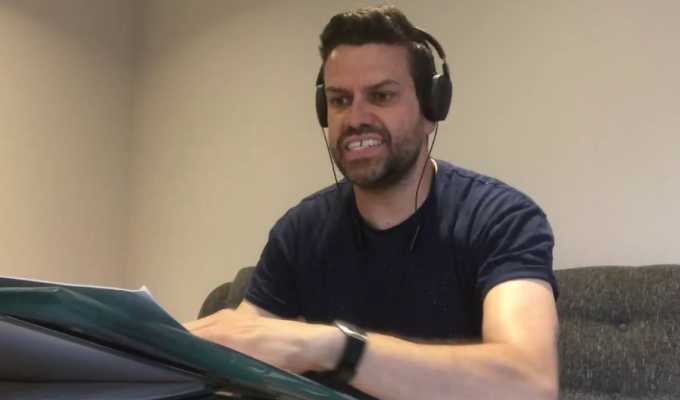 Michael Spicer: Before Next Door
'Nothing substantial ever comes from these brief moments of notoriety on social media.'
So says Michael Spicer in this semi-autobiographical show about how he became a YouTube hit thanks to his satirical Room Next Door sketches, which imagine the panicked reactions of unseen aides trying to brief public figures during car-crash TV appearances.
Despite his cynicism, the sketches have opened doors for him, with appearances on the likes of The Mash Report and the Late Late Show with James Corden. Now this one-off Radio 4 show – which has all the hallmarks of a pilot – is clearly his attempt to further parlay his flash in the digital pan into something more enduring.
If that sounds brazenly ambitious, that's very much out of character for Spicer – if we can trust the fictionalised version presented to us here. But the cocktail of neuroses and social awkwardness certainly feels very authentic, the veneer of 'fictionalised version' seems thin.
There is always the risk a comedian-led mockumentary like this will tip into self-indulgence, especially when the central character is so insular and inward-looking, but there's a big enough dollop of quirk in Before Next Door to make it feel fresh and funny. Even the meta moments – acknowledging a flashback or the artifice of a sound effect – are done with a light, deft touch.
With typical self-awareness, Spicer comments 'mass-marketed whimsy is an awful thing', but excuses this series's own surreal idiosyncrasies, from a reverie about Patrick Marber and Peter Curran's erstwhile Radio 4 show Bunk Bed to his wife (played by Ellie Taylor) insisting he 'stop wallowing near a pylon and start hang-gliding with Emma Barnett', the Radio 5 Live presenter she hopes will give his emerging career a boost.
That sentence - bizarre as it is – gives a key to the substance behind the entertaining froth here. For while generally dissatisfied with his uneventful life as a copywriter for a kitchen worktop company, Spicer's internet fame suddenly makes his dream of being a comedy writer a distinct possibility, after 20 years of it being a long-distant aim. Is he really ready to make the leap into the unknown from his settled, if not exactly contented, middle age? What if he tries and fails?
Radio 4 will have to commission a full series before these questions are answered.
• Michael Spicer: Before Next Door is on Radio 4 at 11pm tonight.
Review date: 18 Jun 2020
Reviewed by: Steve Bennett
Recent Reviews
What do you think?