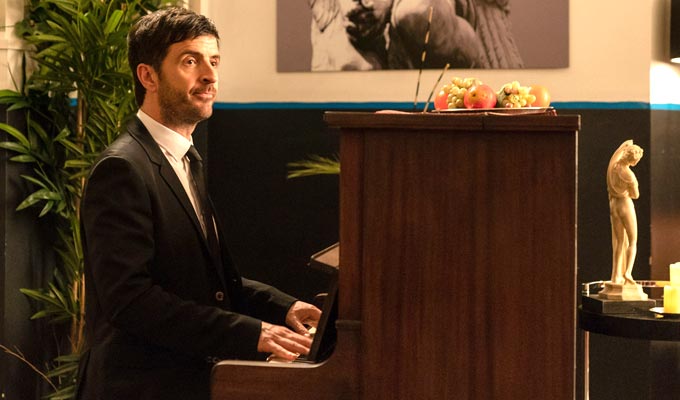 Mister Winner Episode 1
Spencer Jones is one of the funniest, most inventive comedians to have emerged in recent years – which is why it's so disappointing to see him in this most lukewarm of sitcoms. It's like putting Lewis Hamilton behind the wheel of a Reliant Robin.
Mister Winner first piloted three years ago, inviting instant comparisons with Some Mothers Do Ave Em for the slapstick scrapes the hapless but loveable title character got himself into. For the opening episode of the series proper, the excesses of those pratfalls have been toned down, but there's little of substance to replace it.
Things start very promisingly with an amusing standalone sketch about an acupuncture session that goes wrong, leaving Leslie Winner in an awkward situation he gingerly tries to make the best of, yet still leads to embarrassment.
Character duly established, we get to the story proper. Leslie is helping his future father-in-law Chris (Shaun Williamson, as underused as everyone else) in his house-clearing business, where he stumbles across a beat-up old self-playing piano.
One montage sequence later and Leslie has accidentally convinced the owner of an Italian restaurant that he's a maestro, and is duly hired to entertain the diners. Cue him trying to maintain the illusion for the sweet paycheque, despite having no ability whatsoever.
And that's it. There's no B-plot, leaving everything to rest on this over-extended sketch idea where the few developments are largely devoid of excitement or twists. A waitress rumbles him, not in any clever way, and asks for half his salary and, erm, he agrees. So much for that.
We don't get to know much about Leslie beyond the well-intentioned dolt, even though Jones makes him very sympathetic and likeable. And fellow comic Lucy Pearman is given little to do as his gently supportive partner Jemma. They both do their best, but the script by Matt Morgan – probably still best known as Russell Brand's erstwhile radio sidekick – is so lacklustre. One-note, should you want to use a piano metaphor.
Mister Winner is also a very odd commission for the 10pm BBC Two slot, usually reserved for more distinctive, possibly edgier, programming such as Inside No 9. The broadcaster could have put this out at Saturday teatime on BBC One with no ill-effects – except, perhaps, more people noticing how feeble it is.
It certainly pales in comparison with The Mind of Herbert Clunkerdunk, last year's wonderfully absurd series which gave a proper platform to Jones's richly creative comic imagination (and which is still available on iPlayer). Let's have more of those instead!
• Mister Winner starts tonight at 10pm on BBC Two
Review date: 25 Mar 2020
Reviewed by: Steve Bennett
Recent Reviews
What do you think?