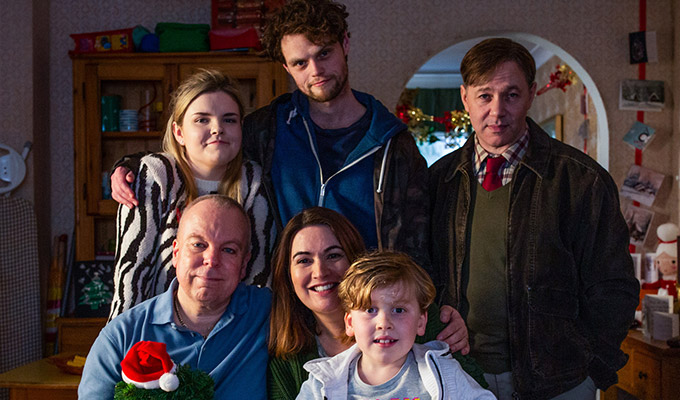 Inside No 9: Love's Great Adventure
Every episode of Inside No. 9 has a different style, and for Love's Great Adventure, Reece Shearsmith and Steve Pemberton have gone full kitchen-sink drama.
You might call this tale of a family struggling to make ends meet in the run-up to Christmas a departure from their normal approach… but that would imply they have a 'normal approach'.
Certainly it's not one of their more high-concept genre-defying offerings, and nor is there much comedy, save for a gag with a novelty singing Christmas tree and a game of 'grandma's knickers' where the aim is to keep a straight face.
The story is told through 24 short scenes, each coinciding with the opening of one of the doors of an advent calendar. Thought what happens inside the No 9 of this device remains a mystery for some of the episode, though we certainly see the consequences.
Pemberton and Coronation Street's Debbie Rush play cash-strapped Trevor and Jules Morbury, trying to ensure a decent Christmas for their teenage daughter Mia, who has her eyes on the perfect prom dress, and grandson Connor, whose hoping his dad Patrick will be paying a visit. Quite what happened to the errant parent isn't immediately obvious, but this, too, slowly emerges. Shearsmith has a secondary role as Julia's brother Alex, giving driving lessons to Mia.
The skilled acting is very naturalistic, and while there is drama and mystery, Love's Great Adventure primarily shows that the brains that conjured up Royston Vasey can also portray a normal world. Even if the family do end up in dire straits, their situation is well within the bounds of dramatic possibility.
• Inside No 9: Love's Great Adventure is on BBC Two at 10pm tonight.
Review date: 17 Feb 2020
Reviewed by: Steve Bennett
Recent Reviews
What do you think?