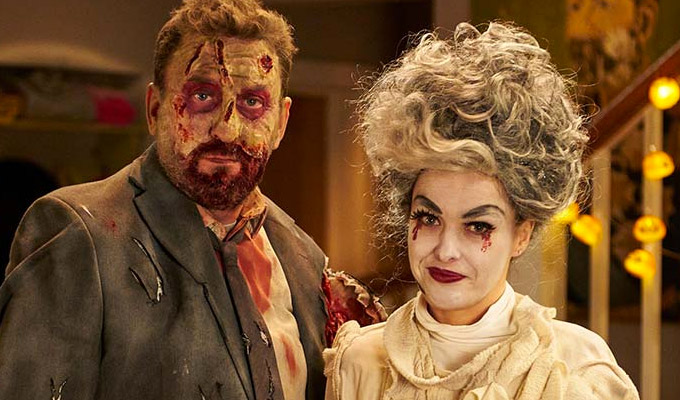 Not Going Out: Halloween Special
Despite the growing popularity of trick or treat, special Halloween episodes of British sitcoms are still relatively rare.
However, Motherland managed a well-timed instalment as part of its second series on Monday and now – snuck into the schedules with very little fanfare – comes this one-off from Lee Mack's long-running comedy.
It's got a later time-slot, too, although there's nothing too post-watershed about it. 'Contains mild peril' as the DVD warning might say.
One main change from usual is that the action focusses almost entirely on Mack's character – also called Lee – and the predicament he gets himself into. Sally Bretton's Lucy and their screen kids are limited to the opening scene and a mid-episode moment of exposition.
Out trick-or-treating, they happen upon a scary Victorian house – in Elm Street, naturally – and get spooked by the vision of its ethereal occupant. In their rush to leave, Lee drops his phone and when he later goes back to retrieves it makes the sort of dumb, not-quite-convincing move sitcom characters sometimes do and finds himself trapped inside the sinister property.
There are a few gags, but this episode is far more about story and suspense than it is about laughs. We are not in genuinely chilling Inside No. 9-style territory, but Mack and co-writer Danny Peak do a good job at keeping the audience invested with plot developments which switch the peril. And that includes the arrival of Bobby Ball as Lee's dad Frank, a character who is never going to make any situation better.
The episode looks great, too, with director Nick Wood and his design team relishing the chance to break away from the usual brightly-lit sitcom aesthetic to make the house and its inhabitant suitably eerie.
As with regular episodes of Not Going Out, this is a mass-appeal episode, but a good example of it: engaging and easy to consume ahead of a hard night's trick or treating tomorrow. And was to why isn't it going out on the 31st? Well, probably because that slot is reserved for the real-life horror show of Question Time.
• Not Going Out: Halloween Special airs on BBC One at 10.35pm tonight.
Review date: 30 Oct 2019
Reviewed by: Steve Bennett
Recent Reviews
What do you think?