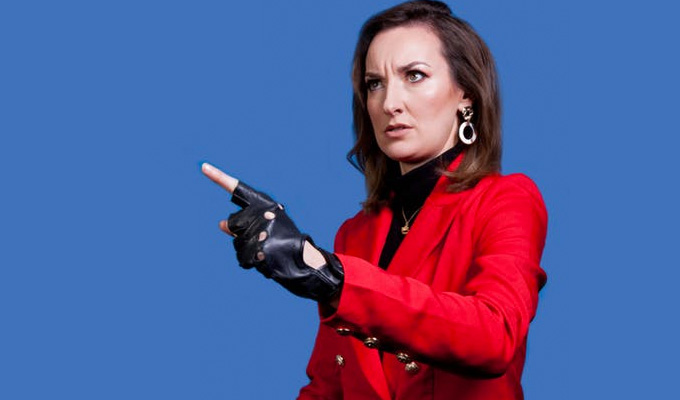 Lorna Shaw: Shaw and Order
In this true-crime podcast parody, Lorna Shaw relates the disappearance of her car last year, with acutely observed transatlantic melodrama.
Acknowledging the recent boom in the genre, Shaw discusses her response to some of the better-known examples, before telling her own vehicular crime story, ending with an act-out of her day in court that, in reality, never came.
Shaw's act is slick and skilled, her honed writing and presentation is noticeably refined and stands out against many other acts. Her radio comedy work is evident in a set packed with throwaways, asides, callbacks and various other techniques.
These combine to fill the narrative with mostly good punches that are at their best when sweary, scathing and surprising. Occasionally, routines are mild, with jokes telegraphed, but do still display a punchy tightness that would improve many comedians' sets.
The parody's core concept and gag - that her car theft wasn't a major crime at all - is funny, especially when filtered through the music cues, props, accents and cliffhangers of the TV shows and podcasts she's sending up.
However, given the mystery she's created to this point, the not-particularly-revealing reveal of Shaw's personal brush with the law slightly disappoints when it comes. Perhaps this is partly the fault of the trend for stand-up shows' dramatic, emotional hijacking two-thirds in, meaning there's (wrongly) a perceptible sense in the room that there may genuinely be a fascinating personal crime story coming.
Ultimately, when Shaw's considerable skills as writer, comedian and presenter are applied to the stronger ends of her material, she's fantastic. And these same skills carry her - generally speaking - through less engaging subject matter. Seemingly most in attendance highly enjoy the show as a result.
Review date: 19 Aug 2019
Reviewed by: Alex Bruce
Reviewed at: Gilded Balloon at Old Tolbooth Market
Recent Reviews
What do you think?