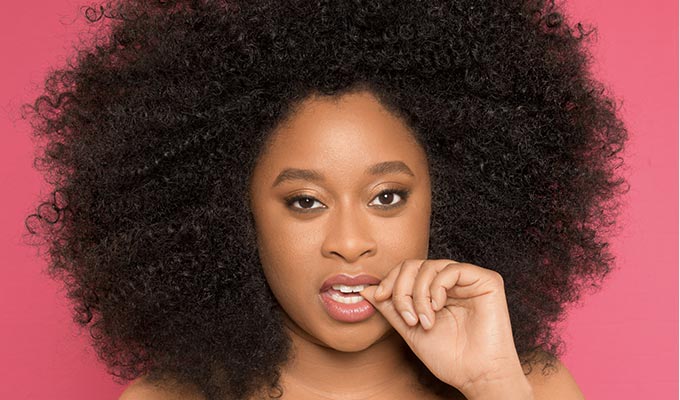 Phoebe Robinson: Sorry, Harriet Tubman
It doesn't exactly show tremendous amount respect for her Fringe audience when Phoebe Robinson tells fans who've paid up to £16 to see her that she's just working up material for a show she's hoping to sell to Netflix or HBO.
Indeed audiences – however much a fan of her hit 2 Dope Girls podcast they are – might feel as if she should be paying them to be guinea pigs for an undercooked routine about male circumcision that she says she wrote only that day. And it shows, as this is an unsuccessful attempt to extend the simple, unoriginal notion that 'hygiene' is no reason to mutilate a penis when all men need do is wash it.
Much of the rest of this hour, loosely linked to the ever-accommodating stand-up theme of how the comedian is trying to be a better person, is stronger than this – but not all.
Stories of sharing a stage with Michelle Obama on her book tour play to her strengths. Robinson is a big personality but likeable, lively, honest and self-deprecating in a way that means she owns her failings rather than apologising for them. Plus the fact we get just a glimpse of life on the road with the sainted former First Lady is tantalising.
Elsewhere, sex and bodily functions, those comedy mainstays, loom large. Robinson has a good turn of phrase – coining her own slang abbreviations and wittily explaining why she's the 'Rosa Parks of the bedroom' – but it's gloss over sometimes pedestrian material. However, her vibrant, open personality sells this section the strongest.
Still below the belt, she has a sizeable section on the notorious anal sex scene in that subtle, hyper-realistic movie Kingsman, a five-year-old film she claims to have only just discovered. Maybe she should have Googled it a bit more, because she has nothing to add to the scorn that was heaped on the scene at the time. She might as well have read out a Reddit thread.
The title refers to Robinson proving a fair-weather protester, bailing out of a march because it was too hot. How did the civil rights pioneers do it? You'd like to think there was more to that, but not really.
All this would have been fine as a £5 work in progress show, as Robinson's disarming personality goes a long way. But to vaunt this appearance as a UK debut from a major rising American star is to oversell it. For while she's found her niche as a distinctive voice in podcasting, the same seems to have eluded her in stand-up, at least on the evidence presented here.
Review date: 16 Aug 2019
Reviewed by: Steve Bennett
Reviewed at: Assembly George Square
Recent Reviews
What do you think?