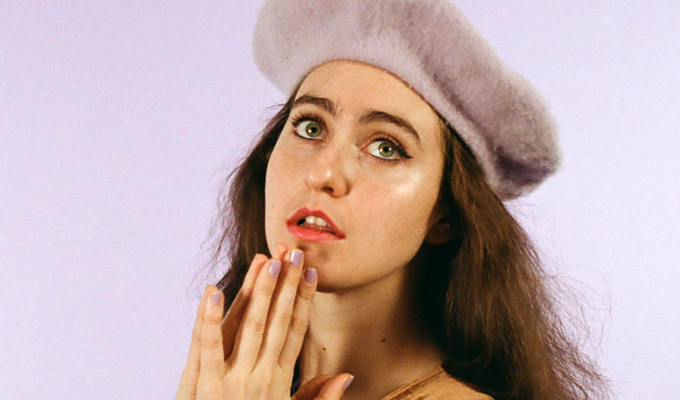 Catherine Cohen: The Twist...? She's Gorgeous
The illusion of glamour and the gnawing anxieties that all the sparkle in the world cannot conceal collide in Catherine Cohen's compelling car-crash cabaret.
She is a skilled nightclub chanteuse – but with more issues than the New York Times and keen to overshare them all. So while she exudes predatory sexuality, she cannot keep a lid on the seething can of insecurities that drove her to a career in the spotlight in the first place.
'Boys never wanted to kiss me, so now I do comedy,' the American purrs in her introductory song – but that need for attention as belated compensation is only the beginning of her psychological issues.
She has an underlying lack of confidence and self-esteem, which are shared with shameless flamboyance. In the eye of this contradictory maelstrom, she freely concedes the precise reasons she can't find love. Since she's distrustful of respect, she desires a man who will use her not care for her. Oh, and shall we throw some misplaced body issues in there too? Her therapist must be very busy.
The honesty is brutal, right down to painting a bleak picture of joyless, mechanical masturbation, but the complete lack of abashment in sharing her deepest secrets is mesmerising – and hilarious.
Her claim to be the voice of a generation might be entirely tongue-in-cheek, but this is an acutely relevant show in this age of social media when everybody projects an upbeat image, despite what's in their heads. She's what the YouTuber character Miranda Sings could have been if she was three-dimensional.
Fully harnessing that put-on assertiveness, Cohen's performance is a force of nature: powerful, stunning, destructive (but only to herself). In songs which cover such topics as a #MeToo revenge fantasy and the difficulty in getting clothes for normal body types, she displays an impressive voice with range, power and sass.
Accompanied by her sometime co-writer Henry Koperski on the keyboard, Cohen will also occasionally break out into some weird choreography to add a new visual; element to the hectic comedy.
In the chat between songs she verges on the maniacal in her incredibly fast-paced, stream-of-consciousness, confessional banter, part ad-libbed, part-planned. If there's an occasional misstep when the two join, she'll style it out with elan.
This is a full-throttle performance with gags and outlandish confession at every turn. You won't be able to keep your eyes off her – which is exactly as she wants it.
Review date: 8 Aug 2019
Reviewed by: Steve Bennett
Reviewed at: Pleasance Courtyard
Recent Reviews
What do you think?