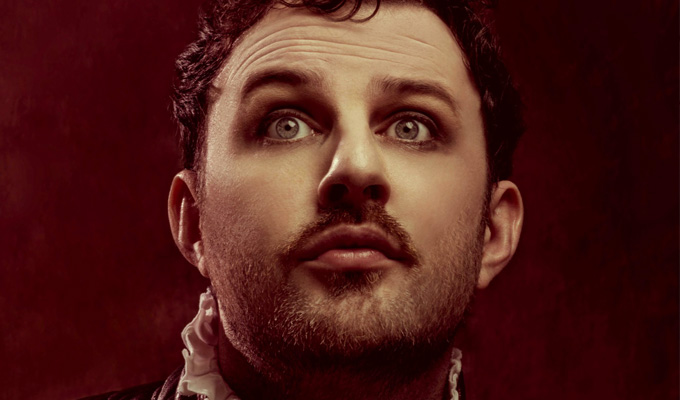 Ciarán Dowd: Padre Rodolfo
Swashbuckling lothario Don Rodolfo smashed his way on to the comedy scene last year with all the braggadocio and fiery passion you'd expect from a legendary swordfighter.
Twelve months on, and Ciaran Dowd's ridiculous alter-ego has sheathed his weapon, both literally and metaphorically, for a life of celibacy and religious devotion as an ordained Catholic priest. So this is an hour of quiet contemplation of the majesty of God's wondrous creations.
Or not. For Padre Rodolfo is the sort of holy man who wears kohl around his eyes, flirts with his flock, and makes it rain communion wafers like Lil Wayne with $50 bills. He makes Fleabag's 'sexy priest' look as alluring as Father Jack Hackett – and is precisely the sort of guy The Pope calls on when the Devil needs an ass-whooping.
That being the plot, we're soon into the preposterous world of ninja-nuns ('nunjas'), melodramatic Exorcist spoofs, jingles for meat snacks, and Man of La Mancha song parody as the derring-do begins.
Maybe it's because we've already been introduced to the larger-than-life hero, but this show seems less inventive than last year. There's still a huge sense of knockabout fun to the escapades, but the audience interactions have been curbed the script has fewer layers, twists and jokes. When a character is killed by a runaway rolling cheese, for instance, it seems more of a silly throwaway death rather than having any connection to the narrative or even mined for maximum gags.
Yet the low-budget extravagance and Dowd's exuberant performance of this over-the-top character with a cod-Spanish accent remains a delight, with the way he cajoles and teases the audience into investing into the adventure enhancing the experience.
Almost stealing the limelight from the charismatic hero is the dim-witted messenger owl, who surely failed the Hogwart's entrance exam. Everyone loves an idiot sidekick, and how this inanimate bird struggles with the most basic of tasks is wonderfully silly.
Expect no lessons about toxic masculinity, or anything else for that matter, and submit to the adventurer who puts the vicar in vicariously and you'll certainly have fun. It just isn't the same degree of brilliance as the stunning debut.
Review date: 6 Aug 2019
Reviewed by: Steve Bennett
Reviewed at: Pleasance Courtyard
Recent Reviews
What do you think?