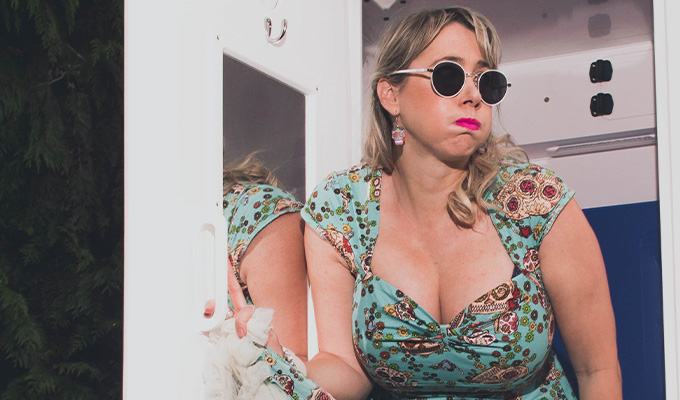 Tiff Stevenson at Latitude 2019
On Thursday night, Channel 4 viewers would have seen Tiff Stevenson drunkenly pratfall off a car in Roisin Conaty's GameFace. On Friday afternoon, she's in a Suffolk field doing what's her bread and butter: cracking feminist-inspired jokes.
She took ownership of the tired and untrue stereotype that all female comics talk about is their period from the start: revealing that she was on hers right now. And why shouldn't she? In her estimation, it's the most rock-and-roll thing any comedian could do on stage, to perform while bleeding - a proud stance that got the audience squarely behind her.
Her set's not always so strong. There are some old gags here, about someone using their personality as a contraceptive, mocking the lazy, whiney, emotionally vacuous Californian accent, or wishing the abortion limit was extended after birth 'to as old as Jeremy Hunt is'. It's not that far from the troll who she cites later in the set as wishing she had been aborted.
She gets her fair share of abuse online, for daring to criticise some men as awful; though she's also keen to point out that she's not tarring the whole gender with the same brush. But the keyboard warriors are mocked for their stupidity.
Some premises are over-long, either as she gives priority to getting over her social or political points more than punchlines, or just though padding. The blow-by-blow account of a Ben Fogle interview is almost as much as a slog as one of his adventures, until she gets to the meat of the routine.
Yet there are some great sections, too, which normally have their roots in her kicking back in areas where she feels invisible, whether as a 40-year-old woman or as a working-class voice. That said, her very best gag was just a silly image of the Queen.
So a mixed bag, with the slower moments more a failure of editing, but a perfectly amenable way to spend half an hour grumbling about all that's wrong in the patriarchal world.
Review date: 20 Jul 2019
Reviewed by: Steve Bennett
Reviewed at: Latitude
Recent Reviews
What do you think?