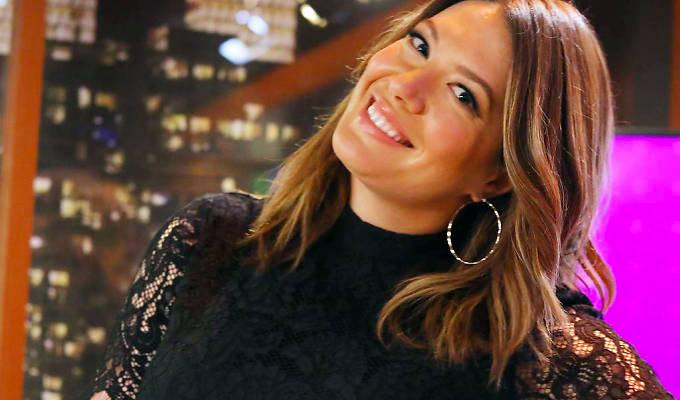 Michelle Collins: Strong Monster
Maybe they were expecting a lot of confused EastEnders fans, that would explain what appears to be an organisational error. For while Stewart Lee is playing Soho Theatre's smaller basement space, the main venue has been given over to an American comic with little profile this side of the Atlantic, but who shares her name with the soap star.
Yet from the moment she takes to the stage, there's no doubting Michelle Collins' right to be there. The audience might be small but her performance is a fast-flowing stream of peppy, gossipy, supercharged consciousness, her Butterfly mind flitting between indiscreet anecdotes and sarcastic observations like an over-sharing pal.
Even before we start this Fourth of July show, a meaningless heckle of 'Frasier' sparks an unrepeatable Kelsey Grammar story, inviting us into her confidence. Incidentally, Collins needed to return to this disruptive punter several times – a man far too drunk to comprehend what an irritant he was – but kept him largely in his check through her considerable force of personality on which her whole show rests.
Collins performs stand-up to the backdrop of a PowerPoint presentation, probably a prop to focus her easily-distracted brain as each slide prompts her to the next subject. This gives the show the feel of a live Instagram feed as she persuades us to appreciate her comically characterful Jewish mother, footage of an overenthusiastic fan at a Yankees game, a clip of a seals singing, and even pictures of overweight pets, from a family cat to a short-lived reality TV series that fat-shamed dogs.
She makes lots of self-deprecating jibes at her own size, too – taking ownership of the 'Strong Monster' description of the title, even if she's far from the house-sized freak she depicts herself as.
But her shtick is as that her life is something of a wreck, from that larger-than-life mother and henpecked dad, to her education at a down-at-heel high school and – the most fertile vein of them all – her chequered dating life, sleeping with one ill-advised man after the next. The Crocs-wearer is especially hilarious, giving off warning signs even Collins's poor judgment could not ignore.
As a show, Strong Monster is very loose and not especially cohesive, but it's driven forcefully onwards by Collins's charismatically camp, scatty energy, making it more fun than it probably has any right to be. About two-thirds in, the limitations start to expose themselves and the momentum flags, especially when she's sharing third-party clips rather than the product of her own chaotic life, but she brings it home with a bit of karaoke that shows off a remarkably deep baritone.
All this suggests that the UK profile of this comic – whose fame extends to being sacked from The View (America's equivalent to Loose Women) and hosting a satellite radio show not available here – can only rise. Maybe soon the day will come when the actress is confused for this Michelle Collins…
Review date: 5 Jul 2019
Reviewed by: Steve Bennett
Reviewed at: Soho Theatre
Recent Reviews
What do you think?