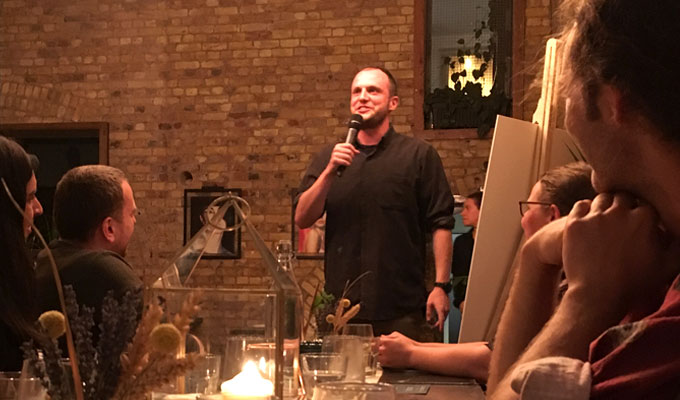 Supper With A Side Of Humour
You only have to glance at a TV cookery show to know that top chefs are always VERY serious when it comes to their food. So much show that the notion of adding a bit of humour to the list of ingredients is billed as a 'new dining concept'.
That was the aim of a pop-up Supper Club last night, which boasted a bespoke menu, unusual cocktails, and a stand-up – Jack Barry – as a final course. Was this a comedy gig, or was this an after-dinner speech? Probably closer to the latter, but with a dash more modernity.
The Supper With A Side Of Humour night was thrown by The Singleton, a whisky brand keen to get away from the spirit's traditional image of stuffed leather armchairs in darkened gentlemen's pubs.
As the company's Jason Clark noted, to a true whisky connoisseur, even adding ice makes the drink it a too-fancy cocktail, so concoctions involving 'chip shop cordial', Appletize and a mist of blackcurrant jelly would have aficionados choking on their single malt. Their loss! The mixes were as delicious as they were unique.
Staged on refectory-style tables in a fancy hipster hangout in East London (even the logo of Hackney Coffee Company comprises a skull in bowler hat and with well-manicured moustache), the evening was catered by pie king Calum Franklin, below, updating the likes of potted salmon, a chippy's curry sauce and even jelly and ice-cream in the intended spirit of fun.
Likewise, for many people the idea of an after-dinner speech might conjure up a bloated misogynist in a bow-tie cracking dubious jokes he's heard down the golf club. Not so here.
Barry acknowledged the slight weirdness of the situation – including the fact that half the audience might have been happy to retire home after their Singleton-infused jelly dome sat on a hazelnut ice cream and Genoise sponge sandwich. And certainly there was a reluctance from the diners to engage in much of the traditional compere's banter.
Still, he admits he's done worse corporate gigs, recounting an awful experience 'entertaining' bemused tourists in a London Eye pod. At least tonight we could leave if we wanted, but no one did.
Returning the circuit after a six-month hiatus when a chest infection left him housebound, Barry proved as relaxed as the dining. In his stand-up, he always seems to be speaking as if he hasn't quite prepared a story. Though behind that front, he's clearly crafted material about his ability to speak Mandarin, and more risque observations about oral sex and the phrase 'suck my dick'. But unlike that bow-tied archetype, delivered with humility and honesty.
We'll raise our glasses to that.
Review date: 27 Jun 2019
Reviewed by: Steve Bennett
Recent Reviews
What do you think?